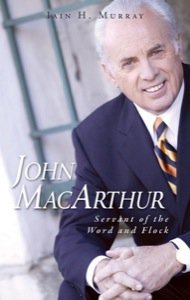 Banner of Truth recently announced that Iain Murray's next book, a biography, will be titled John MacArthur: Servant of the Word and Flock. Murray has previously authored highly-praised biographies of Martyn Lloyd-Jones, Jonathan Edwards, John Murray, and others.
I have had the opportunity to read John MacArthur and enjoyed it tremendously. Though by Murray's own admission it is unlikely to prove the definitive biography of MacArthur (and really, how can any biography be definitive while the subject is still alive?), it is well-written and very informative as it describes the life and ministry of a faithful preacher of God's Word. You can read more about it at Banner of Truth's web site.
This biography will be available at the end of the month. But I have access to 5 early copies and would love to give you the opportunity to win them. At the same time I am going to test out some new software that may make giveaways just a little bit more entertaining. Or maybe not. But we'll try it. This software will give you multiple opportunities to enter the draw–by "liking" this post on Facebook, by tweeting about it, by joining my Facebook page, by referring friends, and so on.
So go ahead and enter. Let's give away some books and give this software a test drive.
Note: for this one you'll need to have a Facebook account. Follow the steps (it's all safe) and you'll be entered. From there you can get extra votes.
(If you are reading this via RSS, you may need to click through to my site to enter)