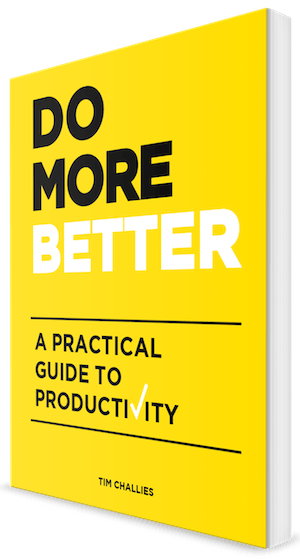 I am really excited to announce that one week from today you will be able to purchase my new book Do More Better: A Practical Guide to Productivity. I wrote this book because I believe God calls each one of us to emphasize productivity in our lives. He calls each of us to emphasize a particular form of productivity—the kind that emphasizes stewarding our gifts, talents, time, energy, and enthusiasm for the good of others and the glory of God.
I don't want you to do more stuff or take on more projects or complete more tasks. Not necessarily. I don't want you to work longer hours or spend less time with your family and friends. I want you to do more good. I want you to do more of what matters most, and I want you to do it better. That's what I want for myself as well. Whether you are a professional or a student, a pastor or a plumber, a work-from-home dad or a stay-at-home mom, I believe this book can be valuable to you.
I am no productivity guru. I am a writer, a church leader, a husband, and a father—a Christian with a lot of responsibilities and with new tasks coming at me all the time. I wrote this short, fast-paced, practical guide to productivity to share what I have learned about getting things done in today's digital world. It will help you learn to structure your life to do the most good to the glory of God.
The genesis of this book was a blog series I wrote right here. Since I wrote that series, I have been able to respond to mountains of reader feedback and, even better, to hear from many of you as you've applied and practiced it. In Do More Better, you will learn:
Common obstacles to productivity
The great purpose behind productivity
3 essential tools for getting things done
The power of daily and weekly routines
And much more, including bonus material on taming your email and a collection of quick tips to improve your productivity.
It really is possible to live a calm and orderly life, sure of your responsibilities and confident in your progress.
You can do more better. And I would love to help you get there.
There are three ways you can receive the book:
Amazon: Do More Better will be available on Amazon in both print and Kindle formats on December 1, 2015. Other retailers will follow in early 2016.
Cruciform Press: It will be available in epub and pdf formats at Cruciform Press on December 1.
Become a patron. All Patreon supporters will receive an electronic copy of the book on December 1.