As long as there have been notebooks and index cards, Christians have been using them as a means of organizing their prayer requests. Without some form of organization, most of us pray only for what is urgent, leaving out those things that do not so easily come to mind. With mobile phones and other digital devices has come a wave of apps that seek to take the place of notebooks. Here are three iPhone apps that are meant to assist in prayer.
PrayerMate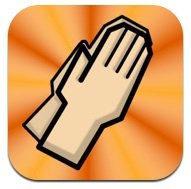 PrayerMate is an app I have been using for some time now. Its goal is to organize your prayer life in a straightforward and distration-free way. "Every day, PrayerMate will select a person or topic that you've entered from each of your main categories (perhaps 'My family' or 'My small group at church') and show them to you as a series of index cards." You simply swipe between those cards as you pray. Its features include an index card interface that lets you swipe between the day's topics; a way to set up your own categories and subjects to suit the way you pray; coordination with your address book contacts; photos that can be attached to prayer points, and a daily reminder to pray. A simple and straightforward app, it costs $2.99 and has native iPhone and iPad versions.
Prayer Prompter
Prayer Prompter is "like a two drawer file cabinet. The top drawer is where you store Scripture passages and devotional material, organized by topic in folders. The bottom drawer is where you store prayer requests for yourself and others, while they are still fresh in your mind, and where you can find them when you are ready to pray." It usually costs $2.99 but for a short time the developer has made it available for free. It is currently available only for the iPhone, though an iPad version is expected in the near future.
You can read an introduction and receive a guided tour here.
Prayer Notebook
Prayer Notebook is the most basic and perhaps the most "Apple-ish" of the apps in its design and functionality. It comes in both a free, Lite edition and a full-featured edition that costs $1.99. "Designed to be your personal prayer assistant, you can use Prayer Notebook to: Focus on intentional prayer in fullscreen mode; group prayers into categories; SMS or email contacts when you have prayed for them; Tweet what you are praying for; schedule prayers daily, weekly, or for a specific day; set an alert for prayers to remind you to pray; mark prayer requests as answered." The basic features allow it to be used however you would like to use it, without forcing a particular kind of organization. While the app will run on iPad, it is native only to the iPhone.