This week the blog is sponsored by Church Social and today's post is written by Jonathan Reinink.
I am a software developer by trade. I am also a Christian. Figuring out how the two fit together is an ongoing journey I am on. I sometimes feel a little like my father, who was a hog farmer. He quietly wondered about the Bible's generally negative perspective towards this animal, that literally fed our family. Was he really doing God's will producing thousands of these "unclean" animals?
Software development can feel the same way at times. The church – often fairly – has a negative view of technology. Are our phones, computers, smart TVs and the Internet really helping us further God's Kingdom, or are they pulling us further away from Him?
I have come to realize that technology, just like pork, is part of God's once-perfect creation. They are a gift from Him. Though technology is imperfect on this side of heaven, it can also be used powerfully to serve God and his people.
In 2012, my vocational journey led me to incorporate Church Social, a software company with the specific purpose of serving the church. The product began as a response to a growing desire from Reformed churches looking to use software and the Internet to become more organized, communicate more easily, and ultimately serve one another better.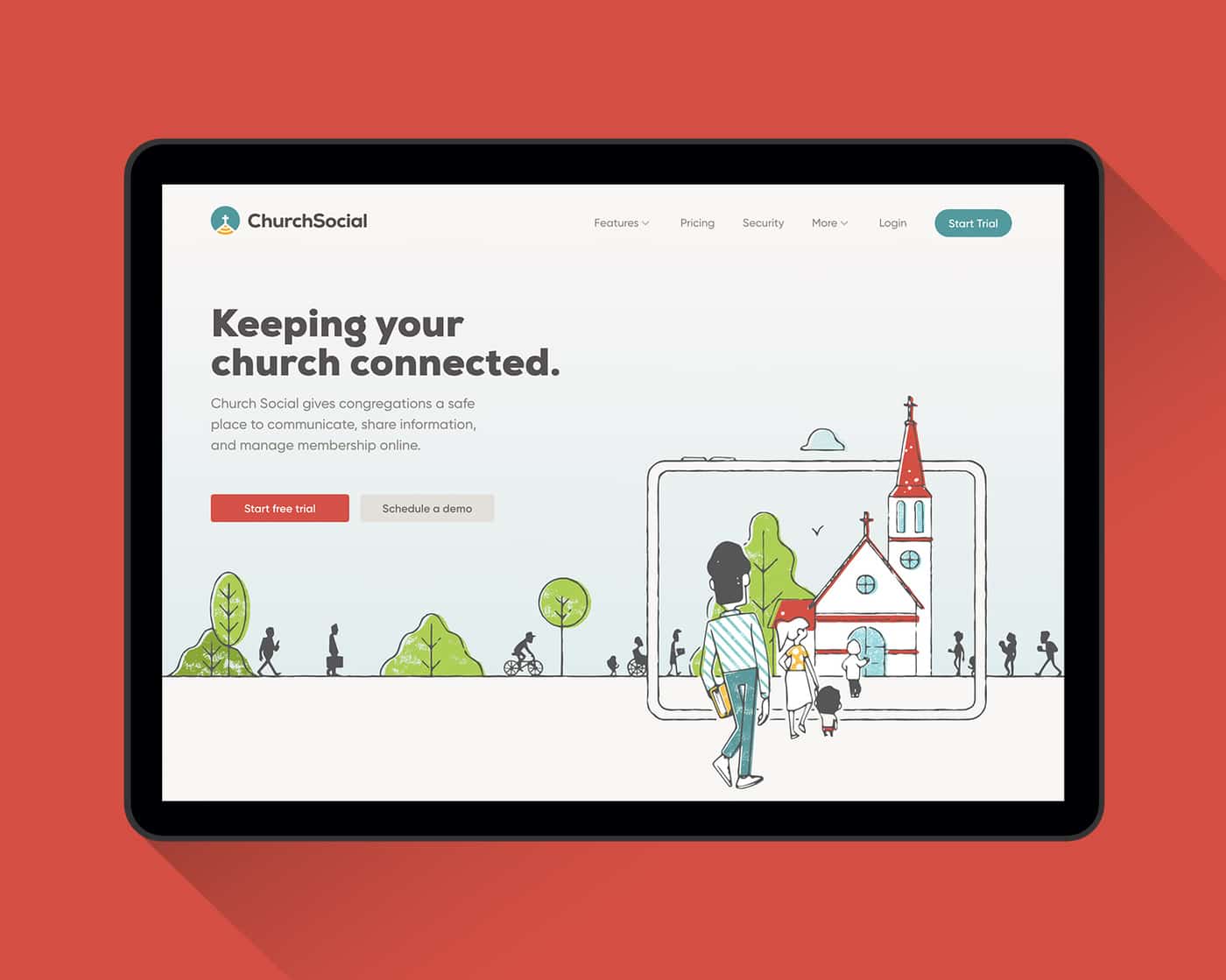 Today, Church Social is used by Reformed churches all around the world. God has blessed our work, and it now keeps me busy full time.
Here are some highlights of how Church Social serves the church.
Membership Management
At the core of Church Social are powerful member management tools. No more struggling with Excel, old databases and software updates. Instead, store member information securely online and log in anytime, from anywhere. Just enter your data and watch as Church Social organizes it, generates statistics and creates reports.
Member Directory
With all this member information in place, a member directory is an obvious feature. Invited to someone's place for coffee or small group, but don't have their address? Not a problem, Church Social makes it super easy to find contact information right from your phone. Want to find out the name of that new attendee you've seen the past couple of Sundays? The searchable directory gives members easy access to family photos, contact information, birthdays, anniversaries and more. Families can even upload their own photos and edit their contact information.

Calendar of Events
The calendar provides a helpful overview of what's happening in the church community that week. Events can include birthdays, anniversaries, volunteer reminders, Bible studies, youth conferences, fundraising events, committee meetings and more.
Messaging
Perhaps the most popular feature in Church Social is our messaging tool, which makes it possible for members to send the entire church community an email in just a few seconds. You can even send messages to specific groups, such as Bible studies, committees and teams.
Schedules
Bring your schedules online in a powerful way! More than just uploading an existing document, you can build schedules for the nursery, greeters, welcoming family, deacons, and more right inside the app. Members can then view those schedules, and even get automatic reminder emails sent to them.
File Sharing
The files section makes sharing member-only documents safe and easy. Upload and store policies, minutes from church meetings, logo files and a host of others. It's even possible to create private categories for a group, such as an administration team, council/session or a fundraising team.
Contribution Tracking
Church Social makes tracking member contributions a breeze. Treasurers can input and track donations to various funds, and then generate reports and tax receipts. Members can even log in to view their own giving history.
If you'd like to learn more about Church Social, please visit our website at churchsocial.com. You can choose to request a demo from there, or If you have questions, you can also email me at [email protected]. I'd love to hear from you!