Today's Kindle deals include a number of books for adults and one for kids. Of note, Basically the whole Word Biblical Commentary series is on sale today. According to my Best Commentaries collection, there are some especially good volumes in that series that would all rank top-5 for that book: Genesis volume 1 and volume 2, Leviticus, Ruth-Esther, Ezra-Nehemiah, Job volume 1 2 and 3, Psalms volume 1 2 and 3, Song of Songs & Lamentations, Ezekiel volume 1 and 2, Daniel, Galatians, Ephesians, Philippians, 1&2 Thessalonians, Pastoral Epistles, Hebrews volume 1 and 2, Jude-2 Peter, Revelation volume 1 2 and 3.
"I wish I could tell you about your piano, Memaw. It is quite the story. But since I can't tell you, I tell Him, each day, and thank Him for it. And now I'm letting the rest of the world hear it too."
"Helicopter parenting, lawnmower parenting, free-range parenting, tiger parenting, attachment parenting, baby-led, and serenity parenting—the list of descriptive parenting terms is endless. Or here is one of mine: janitorial parenting—letting your children do whatever they desire and you clean up after their mistakes, allowing them to avoid accountability."
Here's a short video that tells you which airlines you might want to prioritize.
"You can say it when you're happy, sad, angry, or afraid. In both the family I grew up in and the one where I'm the parent, we've used ILY on cards for holidays or just because, on post-it notes with reminders to take out the trash, on napkins notes in lunch boxes, on foggy-mirror secret messages. I didn't know that some people go their whole growing up years without hearing the phrase. But I think that what's harder than saying it is believing it."
You won't agree with everything here, but I think you'll find it thought-provoking. Consider: "If writers are afraid of the sound of their own voice, then honest, clear, original work is not going to flourish, and without it, the politicians and tech moguls and TV demagogues have less to worry about. It doesn't matter if you hold impeccable views, or which side of the political divide you're on: Fear breeds self-censorship, and self-censorship is more insidious than the state-imposed kind, because it's a surer way of killing the impulse to think, which requires an unfettered mind."
Tim Chester explains how the sacraments act as contracts. This is a helpful explanation of Reformation theology. (For more, see his new book Truth We Can Touch.)
Matthew Hosier responds to a few common questions related to transgenderism while pointing to helpful resources.
Rome is the most Catholic city in the world. (It is, after all, Roman Catholicism.) But that doesn't mean there isn't lots of history here that's of particular interest to Protestants. In this video I take a Protestant look at Catholic Rome.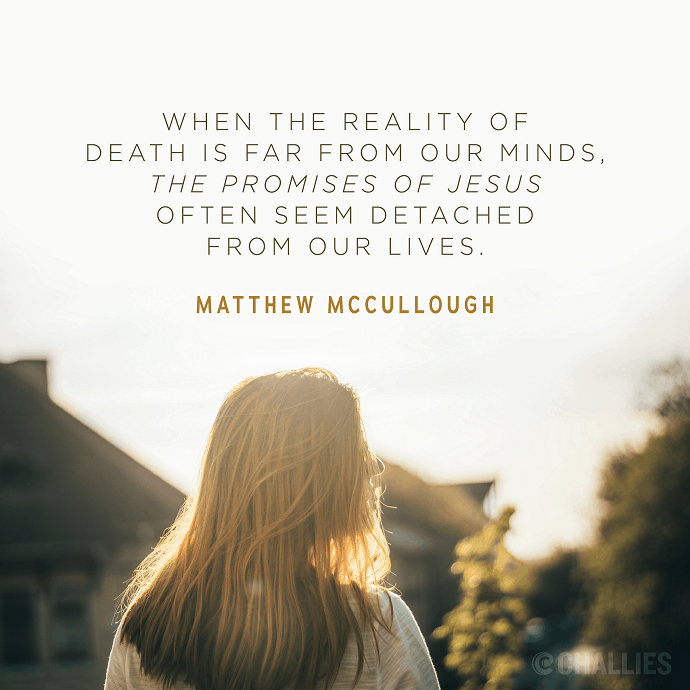 When the reality of death is far from our minds, the promises of Jesus often seem detached from our lives. —Matthew McCullough