Today's Kindle deals include an excellent one from Alexander Strauch, a fascinating look at Christopher Hitchens, and more.
(Yesterday on the blog: A Protestant Look at Catholic Rome)
I hope more and more people come to the conclusion that Hollywood is rotten to the core and that, to some degree, we're complicit in its depravity when we watch its films. "What I find interesting is the way sensitive Christians who abstain from watching Hollywood sex scenes look a little ahead of the curve nowadays. For most of my life refusing to watch an explicit film made you a stodgy fundamentalist, on the basis that 'It's just a movie' and 'Sex is a part of life, get over it.' Unless I'm very wrong, the tide is turning."
Remember when people warned about slippery slopes and they were laughed at? "Fifteen years after the Netherlands decriminalized euthanasia and physician-assisted suicide, more than 25 percent of all deaths in the nation are induced, rather than by illness or other natural causes."
The New York Times has wise counsel for journalists, and I think a lot of pastors should heed it as well. "Friends, reporters, fam: It's time we journalists all considered disengaging from the daily rhythms of Twitter, the world's most damaging social network. You don't have to quit totally — that's impossible in today's news business. Instead, post less, lurk more."
Every Friday, Ligonier features trusted resources on sale for only $5 each. This is a weekly opportunity to grow your library and discover new books and video teaching series.
I'm thankful to Dustin Coleman for writing about his experience of having four daughters. "I can't wait to guide them through those difficult years. I can't wait to tell them when they're struggling with their body image that they are, and always have been, and always will be, just as beautiful as their mother. I can't wait to tell them that there is a beauty that God works in the heart through faith that is more precious than what can be molded through hairspray and makeup."
This article highlights the importance of Bible translation, even in countries or cultures where English (or another major language) is widely-known. "Far too often people groups receive the Gospel message but never the written Word. What happens to these believers who have no Scripture? Why is it so important to translate for these seemingly forgotten groups? When a group of believers does not have God's Word in their own language, three challenges emerge that could extinguish any young church."
Joe Carter shows the significance behind the passing of the recent abortion law in New York. "As we move ever closer to the day when Roe and Doe, the evil twins of abortion law, are overturned, we need to be ready to focus even more on the state level. Committed pro-lifers need to not only continue to change heart and minds but to prepare and motivate the already convinced for the long fight that lies before us."
We don't diminish the power or importance of prayer when we admit that we can sometimes misuse it and turn it into procrastination or an excuse for indecision. "When you pray, pray for God's presence, his power, and pray to demonstrate your dependence upon him. But don't ask him to do what you are supposed to do. Pray and obey, pray and do not delay to do what he has commissioned you to do."
I will listen to them. Then I will tell them the gospel and explain why this gospel is such good news—far better news than what they are offering. And already I'm praying that it would take root.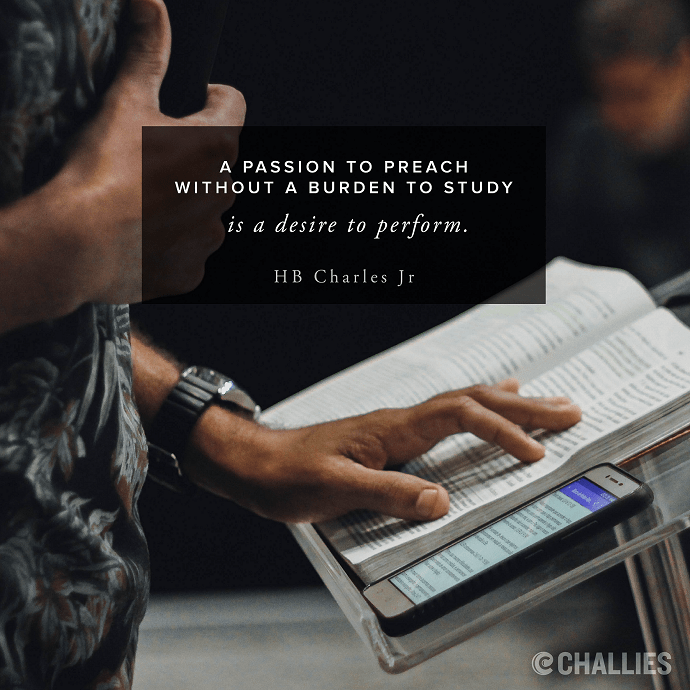 A passion to preach without a burden to study is a desire to perform. —HB Charles Jr