The Lord be with you and bless you today.
There are a couple of new Kindle deals for you today.
Amy Hall: "Many people misinterpret God's character when looking at his demands and actions in history because they imagine what they would think of a fallen human being who did the things God has done, and they recoil. Failing to picture God as he is, they picture instead what they're familiar with—a sinful, human tyrant imposing his preferred laws on people by force, destroying nations, or demanding worship."
Keith considers an oddity that often "happens when disagreements and conflict within the body of Christ arise—Matthew 18 seems to become the solitary text of scripture able to be discussed. It is as though the whole enterprise hinges upon that single verse!"
Crossway has published an important new book by John Piper entitled 
Come, Lord Jesus: Meditations on the Second Coming of Christ
. For the launch, Desiring God has partnered with Westminster Bookstore to offer the 
hardcover edition at 40% off
. (Sponsored Link)
I appreciate Sue's reflection on how she fights spiritual forgetfulness. "I'm a list maker. But it's not because I am an efficient, super-organized, home administrator. It's because I'd otherwise forget."
Meanwhile, on a somewhat similar note, Cindy tells why Scripturememorization is her favorite spiritual discipline.
"Years ago, this verse was understood as a discipleship verse. Parents thought, 'if I train up my child in the Christian faith, then when he is older, he will not depart from that faith.' It was understood as a promise. As a result of thinking this way, when young people walked away from the faith, these parents felt guilt."
Here's an interesting request: "Could you help out us cross-cultural bloggers? It's not easy finding good photos for the kind of topics that show up in our writing, and, frankly, it can end up adding a last level of stress before we hit the publish button."
I know God promises grace sufficient for every trial, but only trials that have actually happened, that exist in the real world rather than in the world of fantasy. I know God's power is made perfect in genuine weakness, not imagined.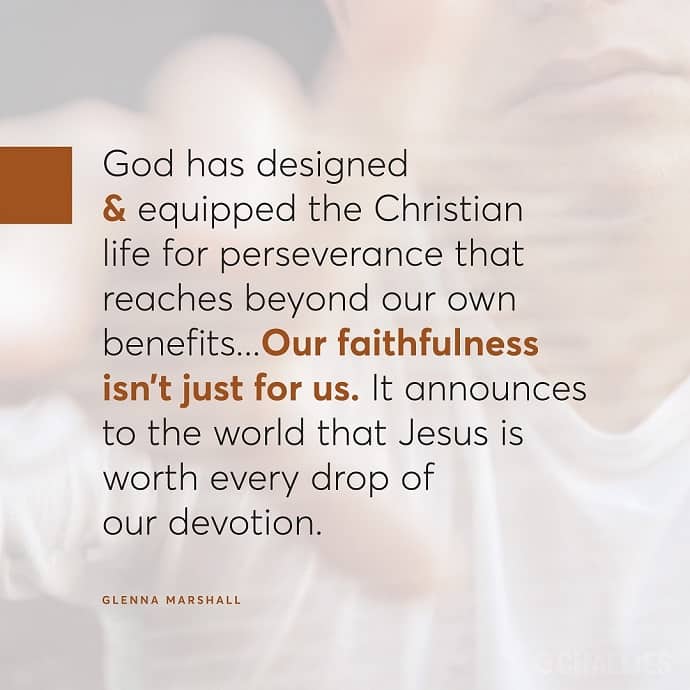 God has designed and equipped the Christian life for perseverance that reaches beyond our own benefits…Our faithfulness isn't just for us. It announces to the world that Jesus is worth every drop of our devotion. —Glenna Marshall