There is not a whole lot new on the Kindle front, but if you didn't check in over the weekend it may be worth a look to see what you missed.
(Yesterday on the blog: Make Your Life a Song!)
I rather enjoyed this somewhat-serious somewhat-silly interview with Todd Friel and Steve Lawson. I expect you will too.
This is a long but illuminating "interaction from a Christian point of view with Marxism, Postmodernism, and Critical Race Theory." It will do you good to get caught up on those terms if you're not already familiar with them.
I'm linking to this story because it's an important example of how YouTube and other tech giants are allowing ideology to censor important conversations. "Information provided exclusively to The Federalist shows YouTube removed a Heritage Foundation video featuring testimony from a former transgender-identifying woman for violating the company's hate speech policy. YouTube confirmed the decision in a Thursday email to The Federalist. Now Heritage is fighting back with a new video, released first to The Federalist, in which Federalist contributor Walt Heyer doubles down."
"I wanted my children to remember their father as a man who gathered his family together daily to worship the one true and living God. I wanted my children to cherish memories of times we read Scripture, sang spiritual songs, and prayed together. More than that, I wanted to be a shepherd who consistently leads his little flock to green pastures and quiet waters." (SPONSORED LINK)
The encouragement here may be primarily for pastors, but I think it will be meaningful to others as well. "Be encouraged whether you're an official servant in your congregation, thinking of serving, or thinking you're the last person to serve: God uses humans. He can use you! What follows is not to be a technical exegesis, but my attempt to encourage you with two points and then exhort you with two points to serve in some capacity or another in your local congregation."
The coronavirus is unlikely to mark the end of tourism, but I expect it's going to permanently change some aspects of it. Perhaps it will address some of the problems with tourism as we've known it, such as the mass crowding of certain key locations and the damage done to them. (See also: What to Expect When You Fly in the Future)
"For every article or book you read praising the practice of spiritual disciplines, you'll find another decrying a regimented spiritual life for fear of legalism." Glenna Marshall addresses that here.
Just yesterday I read these words: "Few things in the world are so beautiful as the sight of a middle aged man or woman showing true devotion to an aged father or mother." That quote by J.R. Miller reminded me of this video of a middle aged man caring for his aged mother. There's such beauty amidst the sadness.
True zeal is knowledgeable. It is not based on impulsiveness or ignorance, but a deep understanding of truth. It begins with knowledge of God and ends in conformity to God.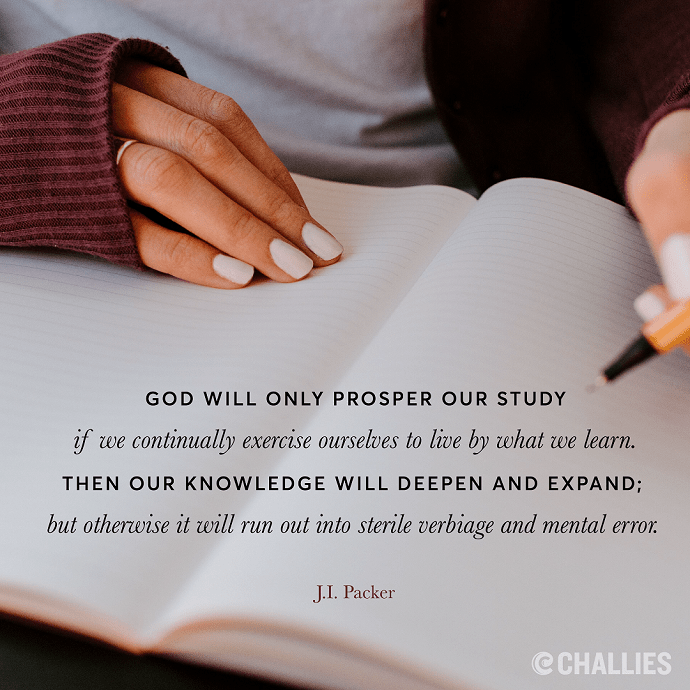 God will only prosper our study if we continually exercise ourselves to live by what we learn. Then our knowledge will deepen and expand; but otherwise it will run out into sterile verbiage and mental error. —J.I. Packer