Today's Kindle deals include some odds and ends worth checking out.
Are you planning to go to the G3 Conference in January? Register today and they'll send you a free copy of my book Visual Theology.
This is a long, interesting, and sad article about Bethel Church. "Many of Bethel's most outspoken critics are evangelical Christians who are deeply troubled by Bethel's theology. They're the kind of people who would normally mind their own business. But by now, Bethel and the School of Supernatural Ministry have grown so huge that they are inescapable. Bethel is everywhere: on the city council, behind the police department and the local charter school, waiting in the parking lot of the Walmart off of Route 44."
You'll love this story. And no, there's no spiritualizing it.
Sugel Michelén provides a brief but solid answer.
There is wisdom here. Of course, every church needs to have tons of patience and allow rookie preachers to make some mistakes…
Kevin DeYoung lays 'em out. "Surely, there are many other things we can and should say about effective pastoral ministry. But in my experience, ministry won't go well, and pastors won't go far, without at least these two requirements…"
Douglas Groothuis: "While I have been critical of how the internet can depersonalize and cheapen human communication, I have found that it may be—at its best—a safe and edifying place for sharing suffering and hope. Here, as everywhere, we should live well before others so that God will be glorified and shalom will be spread locally and globally."
As it happens, my reading plan is taking me through the minor prophets right now.
I've had the opportunity to attend many more churches and, as often as not, they have been similar, missing a lot of the elements that used to be hallmarks of Christian worship. Here are some of the missing elements of modern worship.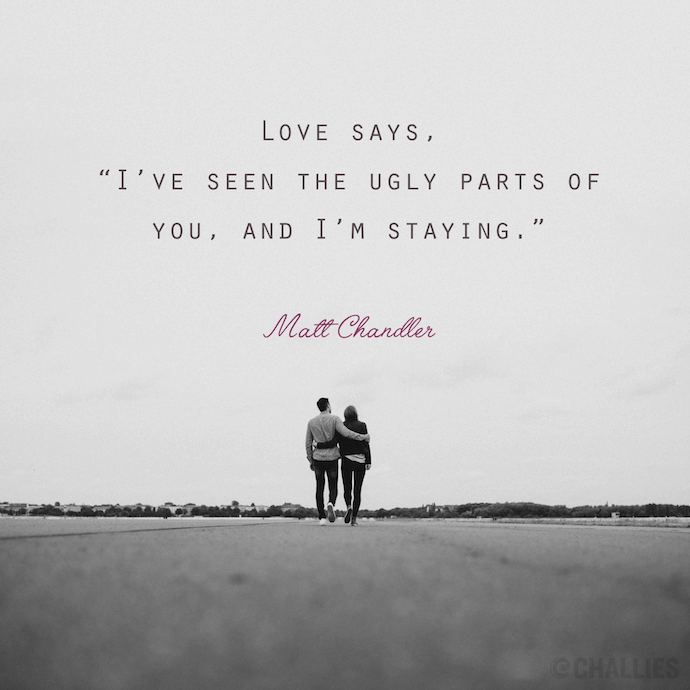 Love says, "I've seen the ugly parts of you, and I'm staying." —Matt Chandler