Today's Kindle deals include just a few deals, but on some excellent books.
Check out Westminster Books for great deals on ESV Bibles.
Dr. Gregory A. Wills answers the question: Are Catholics Christians?
Speaking of Catholicism: "The Church of Rome is not a monolith, and even Popes polarize the assessments of the Catholic people. But what happens when negative voices become more frequent, more outspoken, more radical in their criticism, as seems to be the case in recent months?"
Foghorns are apparently surprisingly complicated machines.
This is a very important case here in Canada. "Trinity Western University's plans to launch a law program—a first for a Christian institution in Canada—were stalled for four years, as the school faced legal challenges over its campus covenant, which bars sexual activity outside of traditional marriage. Law societies in three Canadian provinces argued that the school policy discriminated against LGBT students, and refused to accredit future Trinity Western graduates as a result."
Keith Getty speaks about congregational singing.
This is a wise article written from a distinctly Christian perspective.
Though this article is written for companies, there are lessons for church and individuals as well. "What risk-averse executives and social-media managers often fail to realize is that the subset of people who use social media do not represent the broader world, and further, that the subset of people who get extremely mad on social media don't even represent the subset of people who use social media."
We received an email from one of Nick's teachers, sent to all the parents: "I would like to invite parents to come to our class to speak about the career they chose. I want to expose the student to a variety of careers and experiences. Would you like to come and speak to us?" My very first thought was for Aileen: "I think you should go as a stay-at-home mom."
I'm grateful to Crossway for sponsoring the blog this week.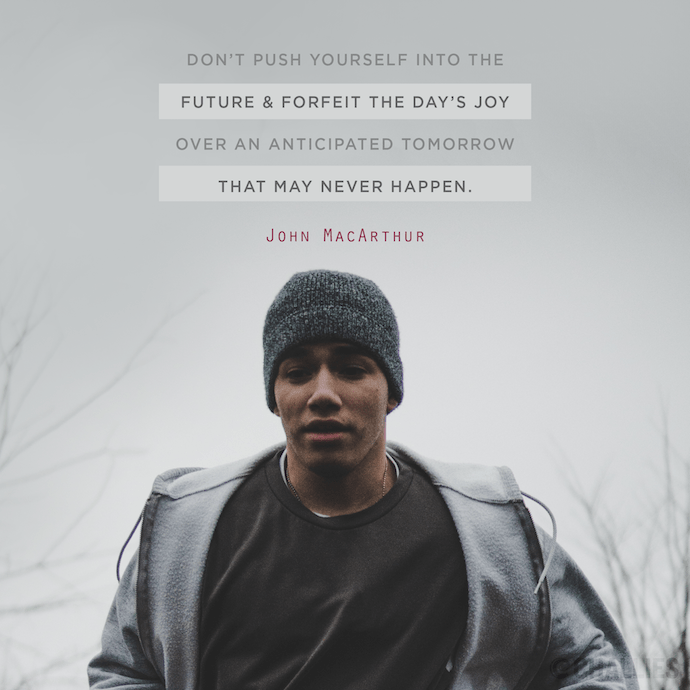 Don't push yourself into the future and forfeit the day's joy over an anticipated tomorrow that may never happen. —John MacArthur