Seven hundred billion minutes. That's how much time Facebook's 500 million active users spend on the site every month. 700,000,000,000 minutes. Let that one sink in for a moment. Every month we spend the equivalent of 1.3 million years on Facebook; the equivalent of nearly 18,000 lifetimes. More than half of us login every single day; we average 130 friends. And we spend vast amounts of time on there.
Facebook now offers 900 million different objects or pages for us to interact with–groups, events, community pages, and so on. We upload over 3 billion photographs every month (which means we're uploading millions every hour).
Do you know what really blows my mind about all of this? Facebook is only 7 years old. Most of us have joined in only the past 2 or 3 years. The growth charts are out of this world: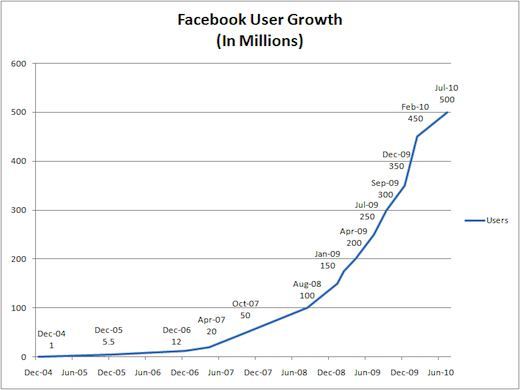 So think about this one. Four years ago most of us did not use Facebook at all. And today we are using it compulsively. A recent study of media habits found that about 1/3 of women between 18 and 34 check Facebook before they even go to the bathroom in the morning; 21% check it in the middle of the night; half of them admit that they are addicted to it. Meanwhile the older generations, those in their 40's and 50's, are also migrating to social media; they now represent the fastest-growing population.
But again, 4 years ago most of us did not use it at all. We may have heard the name, but it was just a name. Today it's a way of life. What's important to think about is the fact that Facebook is not a site that offers us a better way of doing what we were already doing. It's not like most of us were on another social media site and we then migrated once Facebook came along (with young people being a possible exception; many of them migrated from MySpace to Facebook). For the majority of us, Facebook is a new thing. Those 700 billion minutes are not minutes that we've taken away from other online pursuits. They are minutes that we've taken away from real life. Studies show that time spent interacting online comes at the expense of face-to-face relationships and about at a 2:1 ratio. So every hour we spend on Facebook comes at the expense of 30 minutes talking to a person face-to-face. 700 billion minutes are costing us 350 billion minutes of face time. And all of this for something we were living very well without just a few years ago.
This all begs the question: what are we actually doing with our Facebook time? Is what we do there significant enough that it merits the time we dedicate to it? What are we accomplishing with all of those minutes? What do you accomplish with your share of those 700 billion minutes?
A while back I suggested that we might be able to tell what our idols are by looking in our pockets and seeing what we need to have with us all the time. We can also tell what our idols are by seeing where we are spending our minutes and our days. There is clearly something about Facebook that has captivated us, something about it that has drawn us in. For many of us, it is now the place where we live our lives–18,000 of those life times every month.