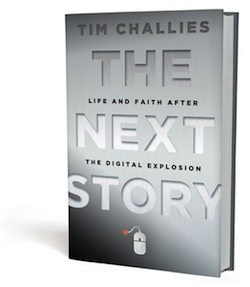 I'm going to be giving away a bunch of Westminster Books gift certificates today. So keep reading.
My book The Next Story: Life and Faith After the Digital Explosion is set to release on April 1, 2011–less than 2 months from now. And it is now available now for pre-sale. I'd like to ask you to order a copy or two (or ten or …). I can even offer a small perk: if you order it before the release date, I can make sure you get a signed copy.
To give you some incentive, I've worked out what I think is a great deal with Westminster Books. Beginning today you can go to Westminster Books and pre-order The Next Story. They are selling it for $11.99, which seems very reasonable for a 224-page hardcover (the retail price is $19.99). The book will ship as soon as it is in stock. And before it ships, I'll sign it.
I'm anticipating your question: if you order my book and another title at the same time, will you get the other book now or will you need to wait until April? Good news; the other book will be shipped as usual, with a follow-up shipment containing The Next Story when it arrives in stock.
To incentivize even further, I am going to give away a bunch of gift certificates to some of you who order it. Skip to the bottom for details.
Still not convinced? Let me explain what the book is all about.
Description
Even the least technical among us are being pressed from all sides by advances in digital technology. We rely upon computers, cell phones, and the Internet for communication, commerce, and entertainment. Yet even though we live in this 'instant message' culture, many of us feel disconnected, and we question if all this technology is really good for our souls. In a manner that attempts to be accessible, thoughtful, and biblical, I address questions such as:
How has life–and faith–changed now that everyone is available all the time through mobile phones?
How does our constant connection to these digital devices affect our families and our church communities?
What does it mean that almost two billion humans are connected by the Internet … with hundreds of millions more coming online each year?
Providing the reader with a framework they can apply to any technology, I explain how and why our society has become reliant on digital technology, what it means for our lives, and how it impacts the Christian faith.
So it's a book not just for the young and digital, but for all of us.
Endorsements
Here is what a few people are saying about The Next Story:
"There are many books evaluating the nature and impact of new media. There are many books on Christian discipleship. However, this book brings these issues together, with profound simplicity and well-informed analysis. This is an important book not only for church leaders but for all of us who seek to understand how we are used by our technology as well as use it." Michael Horton
"Tim Challies knows technology and he knows the faith. So, when he writes on the intersection of technology and faith, it's a must read. The Next Story gives solid counsel to living out the gospel in the context of today's rapid progression of technology." Ed Stetzer
"We all marvel at the rapid technological advances that have taken place in our lifetime. But few of us stop to reflect on the profound way these changes are shaping what it means to be human. The Next Story is a great place to start. It moves beyond warnings simply to be careful what we see (important though these are) to explore how the medium of new technology affects how we know God, relate to other people and even how we think. Instead of simplistic rules or proof texts, it offers a penetrating analysis of the modern world in the light of the biblical story together with practical principles that will enable you to ensure technology is your tool and not your master." Tim Chester
"As the co-author of 13 words in Tim's new book, I'm very happy that he, with his skill as a writer, his experience with as a web designer, and his deeply informed, discerning faith, wrote the other 60,000." John Dyer
"This is an important book. As someone who has spent almost two decades helping couples and families grow stronger and thrive, I have seen how what Tim Challies calls the digital explosion is sending shock waves through homes – everything from Facebook threatening marriages to couples who can't have a conversation that goes deeper than a tweet. It's time we think seriously about the subtle way technology is reordering our lives. The Next Story helps us do that." Bob Lepine
So go ahead! Pre-order the book. Please!
Win!
If you place your pre-order on February 8 or 9, go ahead and send an email to [email protected] with the subject line Pre-Order. I will randomly pick some of you to win $10, $20 or $50 gift certificates to Westminster Books. That will pay for the cost of the book, or more. Send as many emails as you buy copies (so if you buy 2 copies, send 2 emails) and I'll enter you that many times. But don't write me anything in those emails as they'll be automatically processed.
Last time, I promise: Pre-order the book.
Small Print: This order is available in the US of A only. Apologies to the rest of you (us). I recommend Amazon.