Happy birthday, my boy! You're 21 today! Or you would be. Do you celebrate birthdays in heaven? Do you even mark days, months, and years? I confess, I have only just begun to realize how little I know about the place you have gone to be. I've got many questions, but few answers. Then again, I could only get credible answers through the Bible and it seems to be far less concerned with describing lives in heaven than directing lives on earth. It's better that way, I'm sure. I suppose I'll have to wait and get my answers when I arrive.
Speaking of which, I don't really know what it looks like to arrive in heaven. I sure hope, though, that you'll be right there when my time comes. I miss you so much. I miss your voice and smile and laugh. I miss your friendship and conversation and counsel. I miss your wisdom and patience and godliness. I miss being father to a son. Being your dad was truly one of the highest honors I could ever imagine, and outliving you is one of the deepest sorrows. I'm so happy that you're there, of course, but so sad that you're not here. There's a void in my life now. It was a part of me that died that day, a part of myself, the best of myself. You were the best part of me. And I'm sure I won't ever be whole again on this side of eternity.
I'm so proud of you, Nick. I'm proud of the life you lived and the legacy you left. Everyone who knew you has spoken well of you. Friends, neighbors, students, cousins, church members—all spoke of a man who was gentle and kind, godly and good. Your colleagues at the grocery store sent us a book of memories and so many of them spoke of a man who had been patient and friendly and who had talked to them about Jesus. There was no blame attached to your life, no scandal, no dishonor. We learned secrets about you, but they were all good secrets—about the people you quietly mentored, the prayer meetings only you attended, the people who were overlooked by others but loved by you. You lived with honor and integrity. You died a man of irreproachable character. You ran your short race well.
I probably ought to confess I went through your search history, but only to see if I might dig up some clues about how you died. Maybe you had been searching for symptoms of something. You hadn't, as it turns out, but even there I found not a single search and not a single site that was anything less than above reproach. It's clear that the man you were in private matched the man you were in public, and that makes my heart swell with pride. I've often thought how much better it is to be the father of a departed joy than of a living sorrow.1 You brought me such joy in life and, despite all the tears, you've also brought me such joy in death.
I do some silly things now, things that would probably make you laugh, or maybe just roll your eyes. Like I sometimes brew a cup of coffee for you before I visit the cemetery on a Sunday afternoon. It's absurd, I know, but it reminds me of the hundreds of times I made your coffee before you headed off to work or school. We bonded over coffee—over different flavors, different roasts, different methods of brewing—so I sometimes take you a cup and leave it there. It's dumb, I guess, but who's to judge? And really, one of the hardest parts of my loss is that all my feelings of love remain, but there's no way to express them. For 20 years there was always something I could give you, something I could do for you, some way I could spoil you. But now you are beyond all doing, beyond all need, beyond all expressions of love. It's hard on a dad.
I asked granddad to make a glass case for your Bible, the one I gave you when you decided to go to seminary. I'm going to lay it open to 1 Corinthians 15 (which Dr. Schreiner read so movingly at your memorial service) and keep it near me always. Then, whenever I need to, I'll be able to look over and read the great promise that keeps me going: "For as in Adam all die, so also in Christ shall all be made alive." There's such hope there. Such promise. Such joy to look forward to. We will be alive together.
You'd be so proud of mom. Even after 22 years of marriage I wouldn't have been able to predict how she would respond to such heartbreak, but she's done it with strength, with grace, with godliness. I think that of all of us she may have endured the hardest loss, for her heart is the most compassionate and was most knit to yours. Who can deny that the two of you shared a special bond? But she is holding fast to truth, preaching it to herself, and ministering it to the rest of us.
You'd be proud of your sisters, too. Michaela often cuddles up against me in the evening to cry a little, to express her sorrow but also her hope, acknowledging that this is God's will, so it must be right and good. She looked up to you, she admired you, and she treasures the memory of every one of your kind words and good deeds. Abby has gone back to school and is doing well there. She adored you and regarded you as her closest friend and most trusted confidant. But she, too, has determined that she will trust God in her sorrows just as she has in all her joys. All of us have pledged together to stay true to Christ, true to his gospel, true to the end, so we can all be sure of a great reunion.
You'd also be proud of your precious Ryn. Her grief as a fiancée falls into a difficult category. She had decided to live the rest of her life with you, to align her dreams with yours, but had not yet made it official through marriage. So her grief is much like a widow's, but without the level of support and understanding that widows get. But she is strong and godly and enduring her pain. You'd be happy to know that she and mom have become fast friends and talk every day. She is bound to our family now and we hope she will always remain part of it.
I suppose you'd also be glad to know we are all together today. The borders are tighter than ever, the rules more rigid, the restrictions more onerous, but we waded through them to spend a couple of days with Abby and Ryn. We'll spend the day together, cry a little, laugh a little, and then mom will make the usual Friday evening pizza. We are also going to spend time with some of your friends, who, by the way, are all wearing Blue Jays hats in your honor. You'd be so embarrassed! On Sunday we'll head home to start yet another 14-day quarantine. And, then, I guess life will carry on.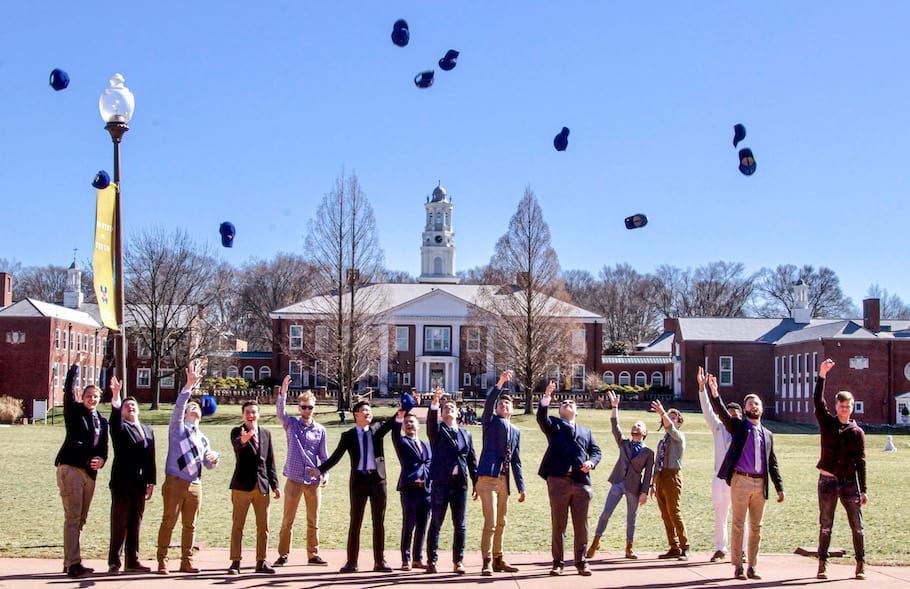 And life has to carry on, doesn't it? What choice do I have but to shoulder this burden, to carry this cross, to press on toward heaven, to press on toward you. God has used your death to help pry my fingers off this world, to make me long for heaven in a whole new way. But he has also used it to give me new directions for life, to make me want to make the most of my time on earth. My longing for heaven is now inseparable from my longing to see you. I can barely wait.
Oh, my Nick. I miss you so much. It has been 203 days since I hugged you goodbye, 124 days since I spoke with you, 122 days since you went to heaven. It all feels so long. But also so short. And I expect the same will be true of the time that elapses between today and the day we're back together. The Sage says life is a vapor, a breath, a puff, a whisper. I'm more mindful of that than ever, that each day is precious, each day is a gift to be used for the good of others and the glory of God. So I prayerfully discern each day's duty, then carry it out as best I can. Then, when night comes, I fall asleep thinking, "When I wake up I'll be one day closer to Nick, and if I don't wake up I'll finally be with Nick." And, to be honest, I'm okay either way.
I'll see you soon, my sweet boy.
Love forever, Dad.
1 Theodore Cuyler wrote various versions of this phrase in his books and sermons.