Last week's series on Sexual Detox was quite an experience for me. I figured it would garner a little bit of interest simply because it dealt with an universal issue (sex) and because it included several important peripheral issues (pornography, addiction, and so on). But even then the response surprised me, both in terms of the number of visitors who showed up to read the articles and the outpouring of comments and emails in response to it. All of this showed me that I had tapped into an important issue.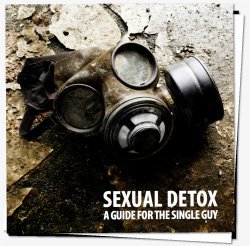 Quite a few people wrote me to ask if I would be able to put the series together into a booklet or e-book. I am hard at work preparing a booklet form of it. I'll be using a self-publishing printer to prepare it in paperback format and those will soon be available at Amazon for anyone who would wish to have a hard copy. What I've done in the meantime is create two different versions of the e-book, one for single guys and another for married guys. There are differences between them with each targeted at its specific audience.
Today I am glad to announce that the e-books are ready to go. I added to them a whole new chapter dealing with masturbation and also added study questions for those who are interested in working a bit on application.
NOTE: Sexual Detox has now been released in book, e-book and audio book formats from Cruciform Press. Click Here to read more, to order it, and so on.
More in

Sexual Detox: A Guide for Guys:
View Entire Series