Great Resources From Fellowship for the Performing Arts…
These giveaways have been very successful. In the past two months I've coordinated with sponsors to give out over fifty books to readers of this site.
This month you've got another chance to some great prizes.
The Sponsor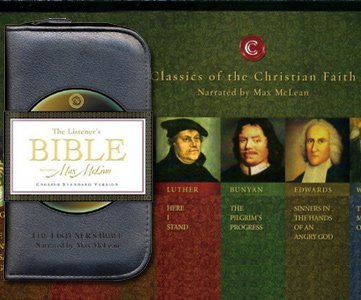 First, a word about sponsors. Each of these giveaways is sponsored by a different ministry or a Christian company. I'd ask that you express your gratitude to these sponsors by clicking through to their sites and looking around. All of them have something interesting to offer. By clicking to their sites you support them and you support these giveaways.
This month's sponsor is Fellowship for the Performing Arts. The Fellowship produces audio resources, primarily based around the performances of Max McLean. McLean has recorded the Bible in three translations (ESV, NIV and KJV) and has recently recorded a collection of Christian classics such as Edwards' "Sinners in the Hands of an Angry God," Martin Luther's "Here I Stand," and Bunyan's "The Pilgrims Progress." These have been collected in the Classics of the Christian Faith, a 9 CD set that is now available at many retail outlets.
Please take a moment to visit the sponsor's web site and to look at the products available there:
The Prizes
I've got some amazing prizes to offer this time around. As with the last giveaway there will be three winners.
First prize: The first prize winner will take home One copy of The ESV Listener's Bible on CD (as read by Max McLean) and one copy of Classics of the Christian Faith CD collection. The retail value of this prize is over $180.
Second prize: One copy of Classics of the Christian Faith CD collection.
Third Prize: One copy of Classics of the Christian Faith CD collection.
Small Print
As with previous giveaways, you can increase your chances of winning by referring others. Details and other smallish print is available in the contest area. I recommend you read it. We've already had a potential winner forfeit the prize because he did not join the mailing list!
Enter the Draw
You can enter the draw here (Please read the instructions carefully! They really aren't too difficult to follow.):