This is going to be the last of the "Great Giveaways" for 2007. Over the past four months I've been able to give away books, Bibles, CDs and all sorts of good things. We'll be closing out the year on a high note here, with giving away the Modern Parables DVD set.
The Sponsor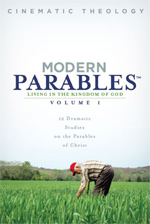 This month's sponsor is Modern Parables. Modern Parables is "an original Bible study curriculum designed for people who like movies. It is the first in a planned series of film-driven studies on the parables. The films are uniquely designed to parallel the original parable and thereby drive the viewer back toward the Biblical text. The 12-lesson study (with 6 additional lessons on cinema and theology) uses short dramatic films that explain Jesus' parables using the particular strength of the cinematic medium. In other words, just watching the films helps teach the historical, grammatical, contextual and interpretive elements in the parables."
Earlier this month I posted a review of their DVDs (read it here) and concluded "I'm grateful for this series of films, a series which I learned about only recently. I am thrilled to know that it is only the first in what is intended to be a set. I'm going to watch these films often and am certain I'll enjoy watching them again with my children. I hope I will other opportunities to use them. And I'll wait impatiently for Volume II."
Here is just one of the previews for the series of films:
This series is ideal for Sunday School classes, Youth Groups, Small Group Bible Studies, Community Outreach/Evangelism, Middle and High School Bible Classes and Home School Curriculum.
To learn more, click here
The Prizes
First prize: Modern Parables box set which includes all the DVDs, a member book and a leader book, six movie posters (one for each parable…posters measure 11"x17") and ten student books (a value of over $250!).
Second prize: Modern Parables box set and six movie posters.
Third Prize: Modern Parables box set.
Small Print
As with previous giveaways, you can increase your chances of winning by referring others. Details and other smallish print is available in the contest area. I recommend you read it. Last time a potential winner forfeited the prize because he did not join the mailing list!
Enter the Draw
You can enter the draw here (Please read the instructions carefully!):