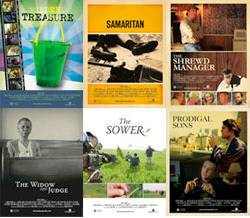 This week's Free Stuff Fridays sponsor is Modern Parables (modernparables.com). "Modern Parables is an original film-based Bible study curriculum on Jesus' parables. It uses short films of the parables combined with teaching by pastors and in-depth study materials to create an entirely new learning experience. Modern Parables seeks to re-create the emotional immediacy that Jesus' 1st-century audience felt when hearing the parables. It does this by using some of the best parable scholarship and exploring it through creative filmmaking. The gut-level understanding made possible by the films is intended to drive listeners into a deeper understanding of the Bible." The films are fun to watch (especially as a family) and are useful for small group studies. I have taught through these films a couple of times now and have found it very beneficial to do so.
I've also reviewed the films and if you'd like to read that review you can do so here. And here is a trailer for "Prodigal Sons," my favorite of the films:
Modern Parables is offering a total of six prizes. Three winners will receive their choice of a set of all six films on DVD (or, if they prefer, they may take digital downloads instead). Three other winners will receive a digital download of the films.
Rules: You may only enter the draw once. Simply fill out your name and email address to enter the draw. As soon as the winners have been chosen, all names and addresses will be immediately and permanently erased. Winners will be notified by email. The giveaway closes Saturday at noon.