Well, another Free Stuff Fridays is upon us. This week's sponsor is Evangelical Press, a non-profit publisher whose mission "is to place sound Christian books and sound biblical teaching within reach of as many people as it can across the world." Today they are offering to place a brand new book with five readers of this site. The prize they are offering is the newly published Who Made God?: Searching for a Theory of Everything. This is a 304 page hardcover book that goes head-to-head with today's popular new atheists.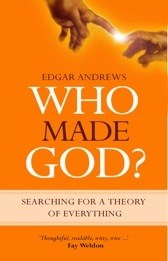 The author is an esteemed scientist (just check out the list of letters that follow his name: Professor Edgar H. Andrews BSc, PhD, DSc, FInstP, FIMMM, CEng, CPhys.) who is Emeritus Professor of Materials at the University of London and an international expert on the science of large molecules. Says the publisher, "If you've been waiting for a really effective riposte to the 'new atheism' of Richard Dawkins and others (or even if you haven't) here it is – gently humorous, highly readable, deeply serious, razor sharp, and written by an internationally respected scientist. Who made God? dismantles the arguments and pretensions of scientific atheism and presents a robust biblical theism as a positive, and altogether more convincing, alternative."
The book has already been widely praised and looks primed to make a splash. You may like to read more about the author and his work at whomadegod.org. "A book written by a distinguished scientist about the existence of God, which has chapter headings like 'Sooty and the universe', 'Steam engine to the stars' and 'The tidy pachyderm', has to be different. It is. Addressing profound questions of science, philosophy and faith with an amazing lightness of touch, Edgar Andrews exposes the pretensions of the 'new atheism' of Richard Dawkins and others, blending incisive arguments with gentle humour. As Fay Weldon writes, the result is 'Thoughtful, readable, witty, wise …'"
Rules: You may only enter the draw once. Simply fill out your name and email address to enter the draw. As soon as the winners have been chosen, all names and addresses will be immediately and permanently erased. Winners will be notified by email. The giveaway closes Saturday at noon.