This week's Free Stuff Fridays is small and simple. This week P&R sponsored the blog with an article titled The Top 10 Books on Reconciling Divine Sovereignty and Free Will. That article was based on a book by Scott Christensen titled What About Free Will?. Today they are giving away 5 copies of the book.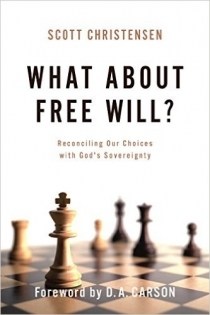 In the publisher's description they say, "Christensen explains two views that acknowledge God's sovereignty and its relation to human responsibility: compatibilism and libertarianism. Providing cogent, biblical answers, Christensen argues for compatibilism and shows how it makes sense of evil, suffering, prayer, evangelism, and sanctification. You will gain a deeper understanding of both arguments, as well as a greater appreciation for the significant role that choices play in God's work." It comes with stellar endorsements (John MacArthur, Michael Horton, etc) and a foreword by D.A. Carson.
Enter Here
Giveaway Rules: You may enter one time. As soon as the winners have been chosen, all names and addresses will be immediately and permanently erased. Winners will be notified by email. The giveaway closes Saturday at noon. If you are viewing this through email, click to visit my site and enter there.