This week's Free Stuff Friday is sponsored by NeuYear. NeuYear is a beautiful full-year wall calendar that I came across last year; I've had one on my wall ever since. It comes in two versions, uncoated (i.e. paper) and dry-erase and is double-sided, portait on one side and landscape on the other. I'm giving away 20 of them today and winners will be able to choose whichever version they prefer.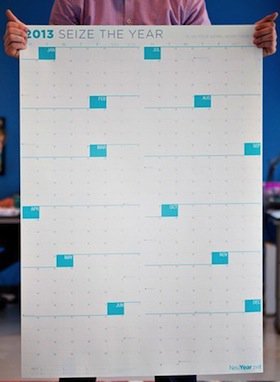 Here are some of its best features:
It's BIG. 27″ x 39″ – It shows you the whole year at once. You can layout your goals for the year, set future deadlines, and clearly see the passing of time. Also, it has bigger squares so you can write more.
NO GAPS. Unlike other calendars, this one has no space between months. The philosophy here is that the week is the currency we think in, so this calendar focuses on presenting 52 weeks, rather than 12 months.
It's BEAUTIFUL. It combines functional features with brilliant aesthetics.
TWO IN ONE. Not only all this, but it's 2 calendars in 1! It has a horizontal orientation that fits perfectly above your desk, or you can flip it over for a vertical orientation that fits perfectly on your door.
I'm testing a new giveaway format today–one that allows you to earn extra ballots by recommending the giveaway to others. If you don't see it, refresh your browser. If that doesn't work, check if you've got an ad blocker running. You may need to disable it.
Giveaway Rules: As soon as the winners have been chosen, all names and addresses will be immediately and permanently erased. Winners will be notified by email. The giveaway closes Saturday at noon.