It's Friday and that means I've got another Free Stuff Friday for you. This week's sponsor is The Good Book Company (www.thegoodbook.com) which produces some great, practical resources that help Christians grow in their faith and reach out to others with the good news of Jesus Christ.
Their Good Book Guide Bible studies cover a range of Old and New Testament books as well as some poignant topical studies for today's culture. Biblical Manhood, Biblical Womanhood and Contentment are just a few. There are 22 in all and we are offering five people the chance to win the entire set – valued at $175!
Series editor Tim Chester describes the range as "easy-to-use while interacting seriously with God's word". Pastor Curtis Hill recently wrote, "I have used the study on 1 John to help me in preparation of a sermon series. I often look for a study guide to help me in the very early stages of sermon preparation to till the soil of a particular theme or book in my mind. I appreciate the Good Book Guide study, because it didn't do the digging, but rather put good tools in my hand so that with God's help, I could do the digging."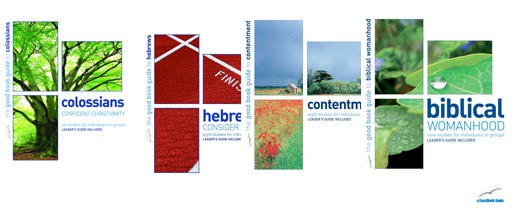 Each guide contains extensive leader's notes which aim to develop the background understanding of the whole group and grow a prayerful, supportive, gospel-centered community around the word of God.
To find out more about the range, visit www.thegoodbook.com/goodbookguides.
Five winners will each receive a set of all 22 Good Book Guides. Due to shipping costs, this week's giveaway is limited to North American shipping addresses.
Rules: You may only enter the draw once. Simply fill out your name and email address to enter the draw. As soon as the winners have been chosen, all names and addresses will be immediately and permanently erased. Winners will be notified by email. The giveaway closes Saturday at 10 AM.