This week's sponsor is christianaudio.com. It seems fitting that, as I blog the Ligonier Ministries National Conference focusing on The Holiness of God that we would give away some copies of the audio version of Sproul's classic book by the same title.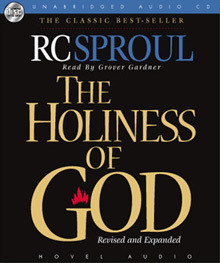 The Holiness of God has sold almost 200,000 copies since it was first released in the 1980s. It proved an instant classic on the awesome nature of God. James Montgomery Boice said of this book "It may be a bit early to call R.C. Sproul's The Holiness of God one of the classical theological works of our time. But if it does not have that status yet, it is well on the way to achieving it." Ligonier Ministries says, "This classic can help you better understand the biblical picture of God's awesome holiness and why it is so foundational to God-centered, God-honoring theology and Christian living. In The Holiness of God, R.C. Sproul demonstrates that encountering God's holy presence is a terrifying experience. Dr. Sproul argues that this struggle is nonetheless necessary because it is the only way to cure our propensity to trust in ourselves and our own righteousness for salvation."
We have five copies to give away. Do note that this is the audio book, not the printed book (which you no doubt already own).
Rules: You may only enter the draw once. Simply fill out your name and email address to enter the draw. As soon as the winners have been chosen, all names and addresses will be immediately and permanently erased. The giveaway closes tonight at midnight.