This week's Free Stuff is sponsored by NavPress. They are offering three books and a gift card. On Sunday, March 6, their bestselling author Jerry Bridges went home to be with the Lord. Though saddened by the loss of this humble, Godly man, they celebrate a life well lived. In his honor, NavPress will offer two of his most popular titles, along with a new release by D A. Horton and a Starbucks gift card.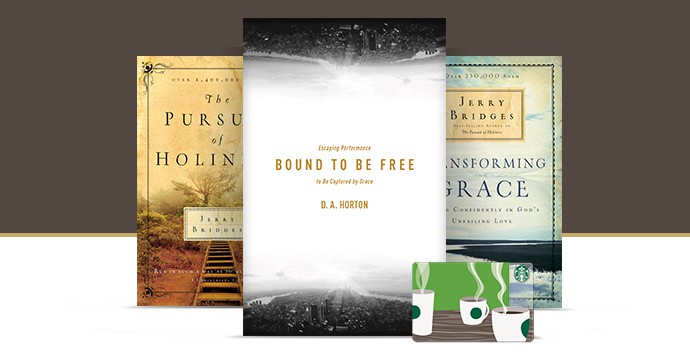 The Pursuit of Holiness by Jerry Bridges – Retail price $12.99. "Be holy, for I am holy," commands God to His people. But holiness is something that is often missed in the Christian's daily life. According to Jerry Bridges, Christians can be confused about their role in bringing about holiness. In this classic, Bridges helps us see clearly just what we should rely on God to do—and where we need to accept responsibility. Whether you are just beginning your pursuit of holiness or continuing your journey, these timeless principles and guidelines will challenge you to joyfully obey God's command.
Transforming Grace by Jerry Bridges – Retail price $14.99. Once we commit our lives to Christ, most of us find it easy to trust God for our eternal salvation. But to live daily by His grace is often a different matter. We tend to base our relationship with Him on our performance rather than on His grace. Yet what we really need is to trust God for His daily transforming grace and the wonderful freedom from performance that grace gives.
Bound to Be Free by D. A. Horton – Retail price $14.99. There's nothing more heartbreaking than to see saints who are bound by performance, not realizing there is freedom through Christ. When we are trapped by performance, we try to please everyone, to do what we think makes God happy, to live a "good" life. We don't realize that the walls are closing in around us. As we acknowledge how we are bound by performance, we can—with God's help—flee into the captivity of grace and rest in God's unfailing love. This Scripture-filled read will help you recalibrate your heart so you can walk in the freedom Christ has provided.
Starbucks gift card – $5.00. Good for a cup of joe to sip as you enjoy some new and classic reads.
In addition, NavPress is offering a free download of the group curriculum for Bound To be Free to use in your small group or church. Click here for more specials from NavPress.
Enter Here
Giveaway Rules: You may enter one time. As soon as the winners have been chosen, all names and addresses will be immediately and permanently erased. Winners will be notified by email. The giveaway closes Saturday at noon. If you are viewing this through email, click to visit my site and enter there.