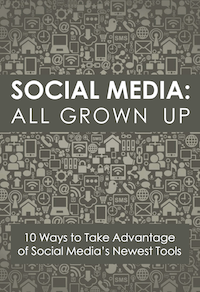 This week's Free Stuff Fridays is sponsored by Strider, who also sponsored the blog this week. Before I go any further, this gives me an opportunity to discuss one small change you will see in the year ahead: Many of the Free Stuff Fridays will be sponsored by that week's site sponsor. This will vary the giveaways a little bit from what you are accustomed to. While many of the giveaways will continue to be books, there will also be other material meant to appeal to different groups. This week is an example!
Strider is in the business of web design and search engine marketing (as they explained in their sponsored post Blowing the Dust Off the Ol' Website). They are giving away a free ebook they have prepared that may be helpful to anyone who is interested in or responsible for web design, search engine marketing, and the like. It is called Social Media All Grown Up. It is free for the taking: All you need to do is click.
Social media is no longer a new buzzword, an emerging trend, or some passing fad. It has taken a premier role in how we live and interact with each other. Social media has gone through its growing pains and is now a vital part of business marketing for companies large and small.

In this book, we'll cover how social media can help you build your brand, connect with new and existing customers, and improve your customer service before, during, and after customer transactions. Included are some of the most up-to-date tips on getting the most from your social networks. Social media is no longer a trend, it's an important part of your business.