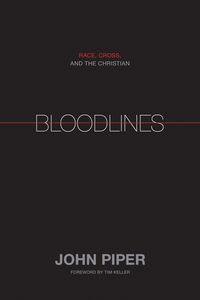 I typically give away free stuff on Fridays, but I've got a bonus giveaway this week courtesy of Desiring God–50 copies of John Piper's new book Bloodlines. The only catch is that they can be shipped only to American and Canadian mailing addresses.
Here is a description of the book:
Genocide. Terrorism. Hate crimes. In a world where racism is far from dead, is unity amidst diversities even remotely possible?

Sharing from his own experiences growing up in the segregated South, pastor John Piper thoughtfully exposes the unremitting problem of racism. Instead of turning finally to organizations, education, famous personalities, or government programs to address racial strife, Piper reveals the definitive source of hope—teaching how the good news about Jesus Christ actively undermines the sins that feed racial strife, and leads to a many-colored and many-cultured kingdom of God.

Learn to pursue ethnic harmony from a biblical perspective, and to relate to real people different from yourself, as you take part in the bloodline of Jesus that is comprised of "every tongue, tribe, and nation.
And if you are interested in some of the background to the book, you may enjoy this 18-minute documentary.
Again, there are 50 copies to win. So have at it! The giveaway will close Tuesday at midnight.