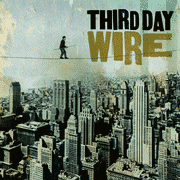 Seven albums into their careers, the members of Third Day do not have a lot left to prove. They have four gold albums and one platinum and have established themselves as one of Christian music's premier bands. Perhaps all that was left for them to prove was that they had not forgotten what made them so popular in the first place. Since the release of Offerings: A Worship Album in 2000, Third Day has concentrated on mid-tempo and praise and worship music, and fans were beginning to wonder if they had lost site of their rock roots. Wire answers that question with an emphatic "no!" While the band continues to provide a strong, Biblical message, their sound has returned to their unique brand of southern rock we came to know and love through their first two albums. To ensure their sound was fresh as they returned to their rocking roots, the band stepped away from long-time producer Monroe Jones and turned instead to Paul Ebersold. On the song-writing front, while Mac Powell continues to do the bulk of the work, Mark Lee shows growth, contributing three songs to this project, including the title track.
The album gets underway with the rocking songs 'Til The Day I Die and Come on Back to Me, both of which would have been at home on their 1996 debut album. These songs prove right from the beginning that the Third Day which made such a splash in the industry almost 10 years ago has no intention of taking the edge off their music. An anthemic song that is destined to become a concert staple, Come On Back To Me speaks about God's love and how He is a God of forgiveness and second chances. The album then slows down for the title track, a powerful rock ballad written by guitarist Mark Lee. It is a song which allows the band to express the vulnerability of living in the spotlight. "I am walking on a wire / I tiptoe through the fire / Never looking down to see that / I am walking on a wire / The pressure's getting higher / But I don't look around." They then ask "What if I slip / Will they catch me / Or watch me fall?"
Having slowed down briefly for Wire, the band launches into Rockstar, a humorous look at the trappings of the rock star lifestyle. With some great harmonies and guitar work, this song charts new musical territory for the band and is one of the album's highlights. Unfortunately because of the subject matter I doubt we will ever find it on the charts.
The remaining songs are mostly mid-tempo and the album does not slow down again until You Are Mine, an upbeat ballad that hinges on the words "I am yours and you are mine." It is a song about grace, reflecting on how we can never understand why and how much God loves us. Innocent follows seamlessly, speaking about the fact that we have been made innocent in God's eyes. "I am innocent and I have been set free / I no longer have chains around my feet."
San Angelo is a lyrical gem – a ballad in which Powell contemplates questioning God and the loneliness of being on the road. The album wraps up with I Will Hold My Head High, a ballad penned by Lee where he speaks about finding joy and victory through the trials of life. "I will hold my head high / Life my hands to the sky / Rise above all who try to bring me down / I will hold my head high."
This album is more Third Day and Conspiracy No. 5 than Time or Come Together. In rediscovering their roots Third Day has proven they have a lot left to offer their fans both musically and lyrically. One of their strongest albums to date, this one is a definite keeper and indicates that there is no reason to doubt that there is a bright future ahead for Third Day.