Series Introduction: I live in a small house. I work in a small office in a small church. For those reasons and others I will never have a huge library. When I add a book I almost always remove a book, a practice that allows me to focus on quality over quantity. Over the past couple of years I have focused on building a collection of commentaries that will include only the best volumes on each book of the Bible. I know when I'm in way over my head, so before I began I collected every good resource I could find that rated and reviewed commentaries. I studied them and then began my collection on the basis of what the experts told me. Since I did all of that work, and since I continue to keep up with the project, I thought it might be helpful to share the recommendations.
My focus is on newer commentaries (at least in part because most of the classics are now freely or cheaply available) and I am offering approximately 5 recommendations for each book of the Bible, alternating between the Old Testament and the New. Today I have turned to the experts to find what they say about Colossians (and Philemon which almost always goes with it).
Colossians & Philemon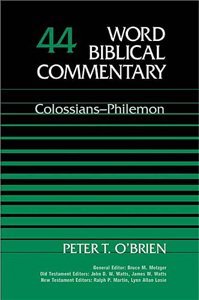 Peter T. O'Brien – Colossians-Philemon (Word Biblical Commentary). The consensus favorite for the best commentary is O'Brien's contribution to WBC. D.A. Carson commends it, saying: "Based on an exact exegesis of the Greek text, it is nevertheless presented with sufficient clarity to satisfy most readers who do not know the language. It is a mine of useful bibliography and helpful interaction with secondary literature." He suggests hopefully that the author should update the work (which was first published in 1987). (Amazon, Westminster Books)
Douglas J. Moo – The Letters to the Colossians and to Philemon (Pillar New Testament Commentary). Moo's commentary is quite recent (2008) and, therefore, reviews have not yet caught up to it. However, Keith Mathison penned a short review while making his way through and said, "If anyone is going to give O'Brien a run for his money, it is Moo. Moo has the advantage of having written in the Pillar series–a much more reader-friendly series than the WBC. His commentary is also able to take into consideration studies published since 1987." He places it as a close second behind O'Brien. I wouldn't be surprised if before long, as reviews catch up, if I need to bump it up as well. (Amazon, Westminster Books)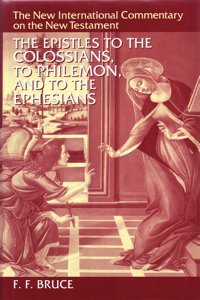 F.F. Bruce – The Epistles to the Colossians, to Philemon, and to the Ephesians (New International Commentary on the New Testament). Bruce's work is always worth reading and, according to the commentators on the commentaries, this one is no exception. Plus, you get the extra value of three books in one! It brings less depth than the two that precede it, but is nonetheless said to be excellent. (Amazon, Westminster Books)
David E. Garland – Colossians/Philemon (NIV Application Commentary). The NIV Application Commentary set is known for being a little bit uneven, with some volumes being far superior to others. However, Garland's is regarded as one of the best in the series. Because this series invests heavily in application, the pastor or general reader may find this focus its most helpful addition to the volumes above. (Amazon, Westminster Books)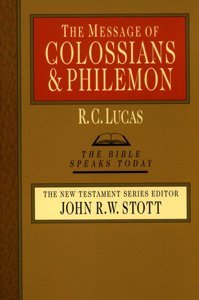 R.C. Lucas – The Message of Colossians and Philemon (The Bible Speaks Today). Lucas' contribution to The Bible Speaks Today series fits my criteria in always wanting to include one commentary geared toward the general or devotional reader. This one may not provide as much fodder for sermon prep, but will be useful to those reading for personal purposes. Jim Rosscup says this work "is not a 'commentary' but an accurate, readable exposition keyed to practical life." (Amazon, Westminster Books)
There are many more noteworthy commentaries on Colossians and Philemon. Colossians and Philemon in the Zondervan Exegetical Commentary series has not yet received any substantial reviews but looks excellent. I am enjoying the series both in its content and its unique layout. (Amazon, Westminster Books) Dunn's contribution to the NIGTC is said to be good, though he denies Paul's authorship of Colossians. It would be a good one for those with extensive knowledge of Greek. (Amazon, Westminster Books)
Let me close with a couple of questions: What are your preferred commentaries on Colossians? Are there some you've found particularly helpful for preaching or for devotional purposes?
More in

Best Commentaries:
View Entire Series