Series Introduction: I live in a small house. I work in a small office in a small church. For those reasons and others I will never have a huge library. When I add a book I almost always remove a book, a practice that allows me to focus on quality over quantity. Over the past couple of years I have focused on building a collection of commentaries that will include only the best volumes on each book of the Bible. I know when I'm in way over my head, so before I began I collected every good resource I could find that rated and reviewed commentaries. I studied them and then began my collection on the basis of what the experts told me. Since I did all of that work, and since I continue to keep up with the project, I thought it might be helpful to share the recommendations.
My focus is on newer commentaries (at least in part because most of the classics are now freely or cheaply available) and I am offering approximately 5 recommendations for each book of the Bible, alternating between the Old Testament and the New. Today I have turned to the experts to find what they say about Ephesians.
Ephesians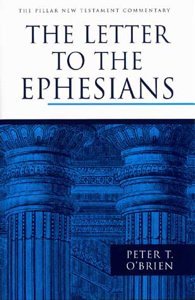 Peter T. O'Brien – The Letter to the Ephesians (Pillar New Testament Commentary). There is clear consensus among the commentators on the commentaries that if you are going to purchase just one volume on Ephesians, it ought to be O'Brien's contribution to the Pillar series. Carson commends O'Brien by saying, "He has thoughtfully absorbed and filtered the best material from earlier commentaries, but has made his own contribution by sticking close to the text, tracing out the theological argument with care and precision." Derek Thomas says it is "a masterful work" while Keith Mathison says it "should be on the desk of every student of Scripture." (Amazon, Westminster Books)
A.T. Lincoln – Ephesians (Word Biblical Commentary). Here is an unusual one. Lincoln's commentary receives near-unanimous praise and is considered one of the best treatments of Ephesians even though Lincoln denies that Paul wrote the letter and attempts to prove his case. (O'Brien apparently answers him convincingly.) Apart from that misstep in authorship, this is apparently an excellent volume that is faithful to the text and draws out important theological reflections. (Amazon, Westminster Books)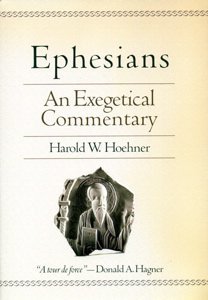 Harold Hoehner – Ephesians: An Exegetical Commentary. This is a massive volume that weighs in at almost 1,000 pages. Keith Mathison says, "In terms of sheer size and scope (960 pages), Harold Hoehner's commentary on Ephesians is the place to turn for those seeking a comprehensive conservative evangelical treatment of this epistle." Mathison particularly commends Hoehner's treatment of the authorship of Ephesians. He also notes that Hoehner is dispensational and that this theology is evident in in several places. (Amazon, Westminster Books)
F.F. Bruce – The Epistles to the Colossians, to Philemon, and to the Ephesians (New International Commentary on the New Testament). Bruce's contribution to the NICNT is a substantial work that covers not only Ephesians, but Colossians and Philemon as well. From what I have read, there is a consider fall-off in quality between the first three recommendations and those that follow, so this volume is probably more of a luxury than a necessity. (Amazon, Westminster Books)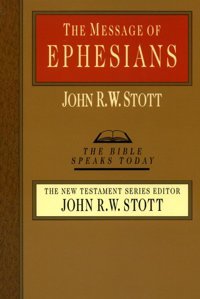 John Stott – Message of Ephesians: God's New Society (Bible Speaks Today). I always like to include at least one relatively short, readable, popular-level commentary for those who may be looking for a simpler treatment of the text. Stott's work has received excellent reviews and fits the criteria. I always benefit from Stott's commentaries and have referred to this one many times. (Amazon, Westminster Books)
There are several recent commentaries that the experts have not yet reviewed or ranked. Among the ones most likely to make their way onto this list are Clinton Arnold's Ephesians from the Zondervan Exegetical Commentary on the New Testament (Amazon, Westminster Books) and Bryan Chapell's Ephesians from the Reformed Expository Commentary (Amazon, Westminster Books).
Let me close with a couple of questions: What are your preferred commentaries on Ephesians? Are there some you've found particularly helpful for preaching or for devotional purposes?
More in

Best Commentaries:
View Entire Series