Series Introduction: I live in a small house. I work in a small office in a small church. For those reasons and others I will never have a huge library. When I add a book I almost always remove a book, a practice that allows me to focus on quality over quantity. Over the past couple of years I have focused on building a collection of commentaries that will include only the best volumes on each book of the Bible. I know when I'm in way over my head, so before I began I collected every good resource I could find that rated and reviewed commentaries. I studied them and then began my collection on the basis of what the experts told me. Since I did all of that work, and since I continue to keep up with the project, I thought it might be helpful to share the recommendations.
My focus is on newer commentaries (at least in part because most of the classics are now freely or cheaply available) and I am offering approximately 5 recommendations for each book of the Bible, alternating between the Old Testament and the New. Today I have turned to the experts to find what they say about Esther.
Esther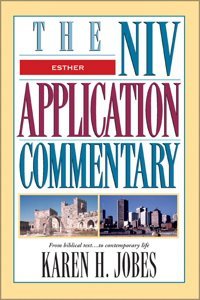 Karen Jobes – Esther (NIV Application Commentary). I always appreciate it when there is clear consensus on the best commentary on any given book of the Bible. For Esther, that honor goes to Karen Jobes. Keith Mathison agrees with the other experts when he says, "Karen Jobes has written the most engaging, interesting, and helpful commentary on the book of Esther presently available. Her knowledge of the text is extensive, and her insights into current application are valuable. The commentary is accessible to laymen, but should be useful to pastors and scholars as well." (Amazon, Westminster Books)
Joyce Baldwin – Esther (Tyndale Old Testament Commentaries). Baldwin's contribution to the TOTC is considered one of the better volumes in the series. It receives Derek Thomas' highest recommendation. Meanwhile, Tremper Longman says, "Baldwin combines a keen literary and theological sense with a firm and intelligent opinion concerning the book's historicity. The commentary is well written and based upon thorough research." The TOTC is a series for pastors and laypersons alike. Unfortunately, this volume is out-of-print so may be difficult to track down. (Amazon)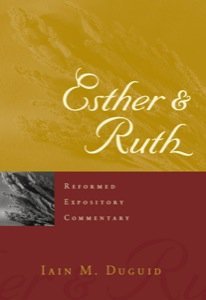 Iain Duguid – Esther & Ruth (Reformed Expository Commentary). I read this one devotionally before reading it during sermon preparation and in both uses found it very, very helpful. It is a sermon-based commentary and ideal for giving an example of how to preach the text and how to illustrate and apply it. This is one of my favorites in the Reformed Expository Commentary series and the experts agree that it is equally strong on Ruth and Esther. Like Baldwin's, this one is ideal for pastors or general readers alike. (Amazon, Westminster Books)
Frederic Bush – Ruth/Esther (Word Biblical Commentary). Like Duguid's commentary, this one covers both Ruth and Esther together. It will prove significantly more technical than the others in the list, and a little more philosophical. Yet it is also said to be very thorough and very helpful, especially for pastors preparing sermons on this book. (Amazon, Westminster Books)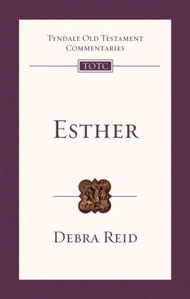 Debra Reid – Esther (Tyndale Old Testament Commentaries). This volume has actually replaced Baldwin's in the TOTC series. While not quite the equal of Baldwin's, it is still regarded as an excellent choice. Longman says, "Reid gives a smart, to-the-point interpretation of the book that does not lead astray" and recommends it especially for people who are looking for a shorter exposition of Esther. (Amazon, Westminster Books)
Let me close with a couple of questions: Have you ever preached through Esther? What are your preferred commentaries? Are there some you've found particularly helpful for preaching or for devotional purposes?
More in

Best Commentaries:
View Entire Series