Series Introduction: I live in a small house. I work in a small office in a small church. For those reasons and others I will never have a huge library. When I add a book I almost always remove a book, a practice that allows me to focus on quality over quantity. Over the past couple of years I have focused on building a collection of commentaries that will include only the best volumes on each book of the Bible. I know when I'm in way over my head, so before I began I collected every good resource I could find that rated and reviewed commentaries. I studied them and then began my collection on the basis of what the experts told me. Since I did all of that work, and since I continue to keep up with the project, I thought it might be helpful to share the recommendations.
My focus is on newer commentaries (at least in part because most of the classics are now freely or cheaply available) and I am offering approximately 5 recommendations for each book of the Bible, alternating between the Old Testament and the New. Today I have turned to the experts to find what they say about Proverbs.
Proverbs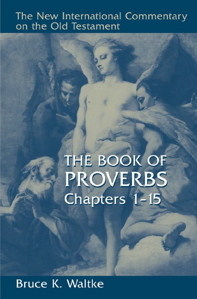 Bruce K. Waltke – The Book of Proverbs: Chapters 1-15; The Book of Proverbs: Chapters 15-31 (New International Commentary on the Old Testament). The clear consensus among the experts is that Waltke's massive two-volume set is the absolute best commentary on Proverbs. Derek Thomas refers to it as "a definitive work" and "a lifetime achievement." It is the result of two decades of thoughtful reflection and the introduction alone is worth the cost of the set. It's the place to begin for Proverbs and a must-have for any pastor. (Amazon: Volume 1, Volume 2; Westminster Books: Volume 1, Volume 2)
David A. Hubbard – Proverbs (The Preacher's Commentary). To some degree, all other commentaries are considered supplementary to Walke's set, so when it comes to Hubbard, Keith Mathison says, "Those who are preaching or teaching through Proverbs will want to supplement Waltke's work with a commentary that reflects on various issues related to application. Hubbard's work is the best place to turn for this. While not as comprehensive as Waltke, Hubbard does not neglect addressing the difficult questions, all the while remaining clear and readable." (Amazon)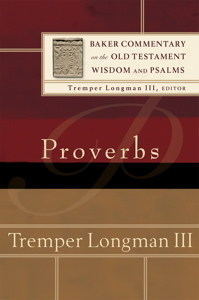 Tremper Longman III – Proverbs (Baker Commentary on the Old Testament Wisdom and Psalms). Longman is a notable Old Testament scholar who also pens a helpful Old Testament Commentary Survey that I've relied on for this "Best Commentaries" series. His volume on Proverbs is said to be detailed but still readable, scholarly and yet still accessible. At 608 pages, it is quite thorough and its main focus is on the theological and ethical message of the book. (Amazon, Westminster Books)
Derek Kidner – Proverbs (Tyndale Old Testament Commentaries). All of the commentators on the commentaries regard Kidner's as an excellent commentary, though one limited by the constraints of the TOTC series which requires short, popular-level volumes. Longman says, "This small commentary is packed with helpful insight and comments on the text. It is exegetically sensitive, theologically helpful, and orthodox." This is a great option for devotional reading, for simple Bible studies, and for providing application. (Amazon, Westminster Books)
Raymond C. Van Leeuwen – "Proverbs" in The New Interpreter's Bible. There may be no need for a fifth volume on Proverbs if you've got each of the ones above, but if you need one more, consider Van Leeuwen. Mathison says, "Van Leeuwen is a recognized scholar in the field of biblical wisdom literature, and his understanding of this genre is reflected in his commentary. There is more reflection on the theology of the book here than in most commentaries." You will probably have some difficulty tracking it down and may need to visit a theological library. (Amazon)
And let me close with a question: What are your preferred commentaries on Proverbs? Are there some you've found particularly helpful?
More in

Best Commentaries:
View Entire Series