Series Introduction: I live in a small house. I work in a small office in a small church. For those reasons and others I will never have a huge library. When I add a book I almost always remove a book, a practice that allows me to focus on quality over quantity. Over the past couple of years I have focused on building a collection of commentaries that will include only the best volumes on each book of the Bible. I know when I'm in way over my head, so before I began I collected every good resource I could find that rated and reviewed commentaries. I studied them and then began my collection on the basis of what the experts told me. Since I did all of that work, and since I continue to keep up with the project, I thought it might be helpful to share the recommendations.
My focus is on newer commentaries (at least in part because most of the classics are now freely or cheaply available) and I am offering approximately 5 recommendations for each book of the Bible, alternating between the Old Testament and the New. Today I have turned to the experts to find what they say about Song of Solomon.
Song of Solomon
Any look at commentaries on Song of Solomon needs to begin with a significant caveat: Your list will depend to a great degree on whether you take the allegorical or non-allegorical approach to the book. I hold to the non-allegorical approach, and that is reflected in my selections.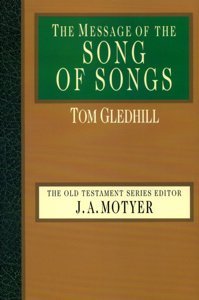 Tom Gledhill – The Message of the Song of Songs (The Bible Speaks Today). The Bible Speaks Today is a popular-level commentary set, and one whose volumes have made regular appearances in this series. Tremper Longman calls Gledhill's volume "a model popular commentary" and commends it as "well written, easy to read, yet profound. Also, Gledhill has an excellent literary sense; he neither simply adopts traditional readings nor gives in to the excesses of contemporary psychological readings of the text." (Amazon, Westminster Books)
Richard S. Hess – Song of Songs (Baker Commentary on the Old Testament Wisdom and Psalms). The Baker Commentary on the Old Testament Wisdom and Psalms has a couple of especially helpful volumes, and Hess' contribution on The Song of Solomon is one of them. It is geared toward pastors and scholars and provides careful and nuanced exegesis of the text. Hess is an expert in ancient Near Eastern background and this expertise makes his volume a unique resource. (Amazon, Westminster Books)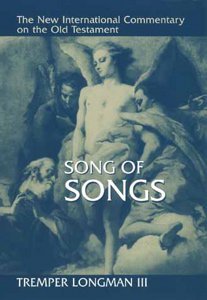 Tremper Longman – Song of Songs (New International Commentary on the Old Testament). Tremper Longman is a highly-regarded Old Testament scholar and his work on Song of Solomon is considered one of the top scholarly works on the book. Keith Mathison says, "For those seeking a thorough exegetical commentary, Longman's work in the NICOT series is a good resource. He approaches the book as a poem (or more precisely an anthology of poems) about the male-female relationship, which itself is analogous to the relationship between God and His people." (Amazon, Westminster Books)
Lloyd Carr – The Song of Solomon (Tyndale Old Testament Commentaries). Carr's volume is another popular-level commentary, but one that has a lot of scholarly research behind it. He takes that non-allegorical approach and writes with concision. Jim Rosscup commends Carr's scholarship but also says he is "lucid in his lengthy introduction, statement of theme (two people celebrating a literal love relationship), and verse-by-verse commenting." (Amazon, Westminster Books)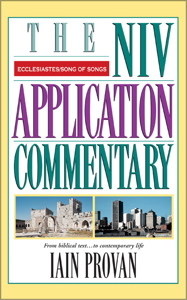 Iain Provan – Ecclesiastes, Song of Songs (NIV Application Commentary). Provan's commentary covers two books and is worth referencing for each of them. Tremper Longman says, "Proven has written one of the most interesting commentaries on these two intriguing books. Even though one may not agree with his final conclusions, his thinking is provocative and will lead the reader to think through old issues." (Amazon, Westminster Books)
Let me close with a couple of questions: Have you ever preached through The Song of Solomon? What are your preferred commentaries? Are there some you've found particularly helpful for preaching or devotional purposes?
More in

Best Commentaries:
View Entire Series