Series Introduction: I live in a small house. I work in a small office in a small church. For those reasons and others I will never have a huge library. When I add a book I almost always remove a book, a practice that allows me to focus on quality over quantity. Over the past couple of years I have focused on building a collection of commentaries that will include only the best volumes on each book of the Bible. I know when I'm in way over my head, so before I began I collected every good resource I could find that rated and reviewed commentaries. I studied them and then began my collection on the basis of what the experts told me. Since I did all of that work, and since I continue to keep up with the project, I thought it might be helpful to share the recommendations.
My focus is on newer commentaries (at least in part because most of the classics are now freely or cheaply available) and I am offering approximately 5 recommendations for each book of the Bible, alternating between the Old Testament and the New. Today I'll share what I learned about Luke.
Luke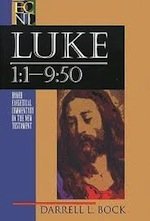 Darrell L. Bock – Luke 1:1-9:50 & Luke 9:51-24:53 (Baker Exegetical Commentary on the New Testament). The clear and unanimous leader in the field is this 2,100-page two-volume set by Darrell Bock. It receives accolades for being thorough but not dense, for being conservative, and for having plenty of theological discussion that makes it especially useful for sermon preparation. D.A. Carson praises the volumes for being "recent, comprehensive, well written, and intelligent." Do note that Bock has written two other volumes on Luke but that if you own these, you will not need the others. (Amazon: Volume 1 & Volume 2, Westminster Books: Volume 1 & Volume 2)
Robert H. Stein – Luke (New American Commentary). Stein's 642-page commentary is positively small next to Bock's. It is considered an intermediate-level commentary that may be a little too advanced for the casual reader; the pastor or scholar well-versed in Greek may want to pass it up in favor of Bock and Marshall (see below). One benefit of this commentary is that it is reasonably-priced and thus good value for the money. (Amazon)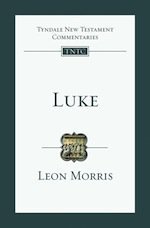 Leon Morris – Luke (Tyndale New Testament Commentaries). The inherent and deliberate limits of the Tyndale New Testament Commentaries means that this volume is relatively short (370 pages) and written at a popular level. This is the entry-level commentary for those who would like just one volume on Luke. Morris has written commentaries on many books of the Bible and they are uniformly sound even if they are rarely considered the top of the class. (Amazon, Westminster Books)
Joel Green – The Gospel of Luke (New International Commentary on the New Testament). Most commentators on the commentaries commend this volume, D.A. Carson among them, though he offers caveats. He says it is "full of thoughtful interaction with contemporary scholarship, but I do not think it is either as rigorous or as accurate as the work of Luke." He suggests that its unique strength is narrative historiography and discourse analysis. If you, like me, don't know what that means, then perhaps choose one of the other volumes! (Amazon, Westminster Books)
I. Howard Marshall – The Gospel of Luke (New International Greek Testament Commentary). The NIGTC series is meant for scholars or for those with a significant grasp of Greek. While the experts commend this commentary, they do so with the caveat that it is dense and difficult, not only because of the use of Greek but also because the notes are incorporated right into the flow of the text. Keith Mathison says "Despite this very poor editorial choice, there is still a wealth of helpful material here for those willing to dig and use discernment." (Amazon, Westminster Books)
Of course there are many other volumes on Luke that we could consider. Philip Ryken's contribution to the Reformed Expository Commentary series is too new to have gained many reviews, but I always find Ryken a steady guide and a helpful expositor with his sermon-based commentaries. This two-volume set is ideal for devotional reading or for a pastor looking for a model of fine expository preaching. (Amazon, Westminster Books)
Let me close with a question: What are your preferred commentaries on Luke? Are there some you've found particularly helpful or are there some we would do well to avoid?
More in

Best Commentaries:
View Entire Series