Series Introduction: I live in a small house. I work in a small office in a small church. For those reasons and others I will never have a huge library. When I add a book I almost always remove a book, a practice that allows me to focus on quality over quantity. Over the past couple of years I have focused on building a collection of commentaries that will include only the best volumes on each book of the Bible. I know when I'm in way over my head, so before I began I collected every good resource I could find that rated and reviewed commentaries. I studied them and then began my collection on the basis of what the experts told me. Since I did all of that work, and since I continue to keep up with the project, I thought it might be helpful to share the recommendations.
My focus is on newer commentaries (at least in part because most of the classics are now freely or cheaply available) and I am offering approximately 5 recommendations for each book of the Bible, alternating between the Old Testament and the New. Today I have turned to the experts to find what they say about the pastoral epistles (1 & 2 Timothy and Titus).
The Pastoral Epistles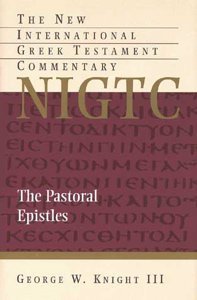 George W. Knight, III – The Pastoral Epistles (New International Greek Testament Commentary). D.A. Carson lists more "best buys" for the pastoral epistles than for any other book or books and at the very top of his list is Knight's volume in the NIGTC which he commends as "cautious, conservative and thoughtful." As you may know, this series is quite technical and requires at least some knowledge of Greek. If you know Greek and are teaching or preaching one of the pastoral epistles, you will want to add this volume to your collection post haste. (Amazon, Westminster Books)
I. Howard Marshall – The Pastoral Epistles (International Critical Commentary). After commending Knight, Carson also commends Marshall and says his work is "packed with thoughtful, well-written reflection on every issue of importance." Yet, oddly, Marshall does not believe that the epistles were written by Paul and this, not surprisingly, influences some of his interpretations. Still, it receives high recommendations and will prove valuable, especially for the teacher or preacher. (Amazon, Westminster Books)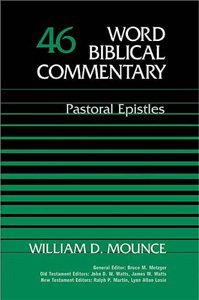 William D. Mounce – Pastoral Epistles (Word Biblical Commentary). The experts all recommend this one. Keith Mathison writes, "Many will recognize William D. Mounce as the author of the widely used Basics of Biblical Greek Grammar. His commentary on the Pastoral Epistles in the Word series is very helpful. Mounce thoroughly discusses all of the important issues raised by Paul (whom he believes wrote these epistles), and when dealing with controversial parts of the letters, he fairly represents those with whom he disagrees. All in all, a very good commentary." (Amazon, Westminster Books)
Philip H. Towner – The Letters to Timothy And Titus (New International Commentary on the New Testament). While not as technical as George Knight's volume, this one still weighs in at a hefty 900 pages and should probably be the first choice for teacher or preachers who do not have knowledge of Greek and, therefore, cannot get a lot out of the NIGTC. Towner provides a conservative interpretation that assumes Pauline authorship. (Amazon, Westminster Books)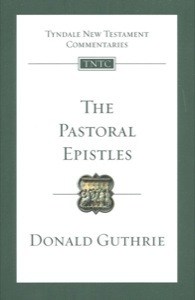 Donald Guthrie – The Pastoral Epistles (Tyndale New Testament Commentaries). I always try to include at least one volume that is reader-friendly and suitable for someone who wants to do a relatively light study. Guthrie's fits the bill. He writes from a conservative position, addresses those who take an opposing view, and then helpfully opens up the three epistles. Anyone will be able to read, understand, and enjoy it. (Amazon, Westminster Books)
There are a couple of volumes that look good, but for which I have not been able to find reviews. Philip Ryken's 1 Timothy from the Reformed Expository Commentary series is bound to be good, as Ryken has a long track record as a skilled commentator. (Amazon, Westminster Books) Bryan Chapell's 1 and 2 Timothy and Titus from the Preaching the Word series would be similar in that it is a sermon-based commentary from a skilled preacher. (Amazon, Westminster Books)
Let me close with a couple of questions: Have you ever preached through the pastoral epistles? What are your preferred commentaries? Are there some you've found particularly helpful for preaching or for devotional purposes?
More in

Best Commentaries:
View Entire Series