Series Introduction: I live in a small house. I work in a small office in a small church. For those reasons and others I will never have a huge library. When I add a book I almost always remove a book, a practice that allows me to focus on quality over quantity. Over the past couple of years I have focused on building a collection of commentaries that will include only the best volumes on each book of the Bible. I know when I'm in way over my head, so before I began I collected every good resource I could find that rated and reviewed commentaries. I studied them and then began my collection on the basis of what the experts told me. Since I did all of that work, and since I continue to keep up with the project, I thought it might be helpful to share the recommendations.
My focus is on newer commentaries (at least in part because most of the classics are now freely or cheaply available) and I am offering approximately 5 recommendations for each book of the Bible, alternating between the Old Testament and the New. Today I have turned to the experts to find what they say about 1 Corinthians.
1 Corinthians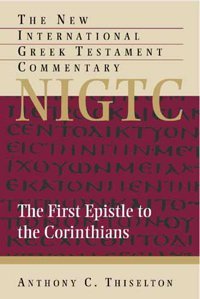 Anthony Thiselton – The First Epistle to the Corinthians (New International Greek Testament Commentary). The clear consensus for the top commentary on 1 Corinthians is Anthony Thiselton's volume in the NIGTC. This is a series for academics, so it will prove difficult for the casual reader. Carson says it is "well written, accessible (for readers of this sort of series!), and penetrating" and praises it for both detailed exegesis and for tracing lines of interpretation from the Church Fathers to the present. (Amazon, Westminster Books)
Gordon Fee – The First Epistle to the Corinthians (The New International Commentary on the New Testament). Carson says that the best general commentary is a toss-up between Fee and Garland. Most experts appear to agree and have some difficulty with selecting one over the other. Both Carson and Derek Thomas regard this as a helpful volume while pointing out some weaknesses, and especially Fee's treatment of 1 Corinthians 14:33b-35. His argument for the continuation of all gifts is said to be helpful and well-formed, whether or not that is your position. (Amazon, Westminster Books)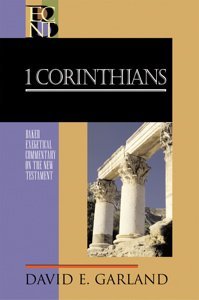 David Garland – 1 Corinthians (Baker Exegetical Commentary on the New Testament). Garland's is widely praised and apparently represents a very competent handling of the text. It is relatively recent (2003) which gives it an advantage in interacting with more recent scholarship. Thiselton says, "It offers reliable and constructive exegesis based on a wide interaction with scholarly literature. It retains an eye to theology and to pastoral application, with clear comments and often apt turns of phrase." (Amazon, Westminster Books)
Leon Morris – 1 Corinthians (Tyndale New Testament Commentaries). The Tyndale series is targeted at a general audience, so this commentary is written at a basic level and is relatively short. Keith Mathison says it well: "Space limitations in the series preclude comprehensiveness, but Morris can usually say more in a few pages than most commentators can say in an entire book. This introductory level commentary will benefit any who take the time to read it." (Amazon, Westminster Books)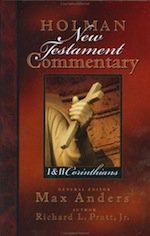 Richard Pratt – 1 & 2 Corinthians (Holman New Testament Commentary). I found it very difficult to find a consensus choice for the fifth position. There were several options such as going with what I suspect will be true of the new volume in the Pillar series or going with a classic commentary on the passage. However, these would both be outside of the way I've positioned this series. In the end I went with Pratt's volume which appeals to me primarily because of Derek Thomas' praise for it: "A nice blend of exposition, theology, and application." That sounds like a helpful volume for the preacher and casual reader alike. (Amazon, Westminster Books)
I have not yet found reviews of Roy Ciampa and Brian Rosner's contribution to the Pillar series, but expect future reviews will show that it merits a place in the top-five (Amazon, Westminster Books). Charles Hodges' commentary is older and, therefore, outside the boundaries of my series, but it is nearly unanimously recommended and doubtlessly worth consulting (Amazon, Westminster).
Let me close with a couple of questions: What are your preferred commentaries on 1 Corinthians? Are there some you've found particularly helpful for preaching or for devotional purposes?
More in

Best Commentaries:
View Entire Series