Oh give thanks to the LORD, for he is good; for his steadfast love endures forever! Happy Thanksgiving to my many American friends and family members. Enjoy your holiday today and then check in tomorrow for my annual round-up of Black Friday deals.
(Yesterday on the blog: Revival)
Perhaps you'll find this helpful today. "What if I told you it's possible to have great conversations with almost anyone without wasting your time, getting bored, or even offending anyone? Here are four tips to help you do just that this holiday season."
Stephen Nichols reflects on the history, meaning, and joy of Thanksgiving.
Visual Theology has some fantastic Black Friday Deals going on right now. All Advent materials are 25% off, and all memberships are 50% off with code black2022. It's an excellent opportunity to download every poster, slideshow, handout, workbook, and more! These deals run through the end of the month. (Sponsored)
This is a fun one. "My kids used to say I should write a how-to-hide-the-turkey-recipe book. We ate a lot of turkey when we lived in Italy. Affordable and easily available, I disguised wings, thighs and breast, every possible way. But turkey, as often as it showed up at our house, didn't come whole."
Though giving thanks is not always easy, it is never merely optional. "Nowhere does the Bible say thanking God is easy. But nowhere does the Bible say thanking God is optional. It's not a practice reserved only for the good times. It's a spiritual discipline necessary at all times."
If you want to be truly thankful you'll need to cast out certain sins—sins like greed. "Greed is so normal and acceptable that we don't see the need to flee. We feel Jesus and Paul were overstating things by saying things like you cannot serve both God and money; we're prepared to give it a go!"
When all you want to do with your money is seek indulgence, it will deliver ever-diminishing pleasures. But when you faithfully steward it, those small pleasures are far richer and far sweeter.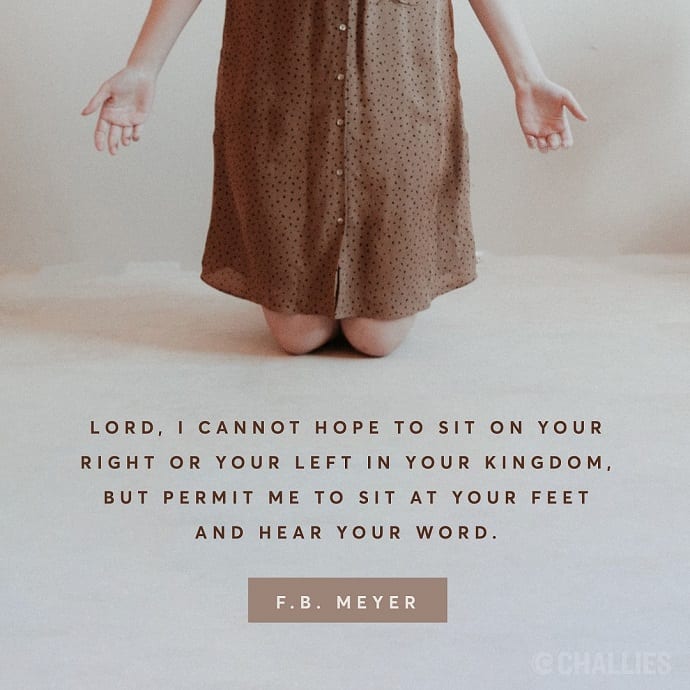 Lord, I cannot hope to sit on your right or your left in your kingdom, but permit me to sit at your feet and hear your Word. —F.B. Meyer