In this ongoing series of articles I am looking at books that have won the prestigious Platinum or Diamond Sales Awards from the Evangelical Christian Booksellers Association. The Platinum Award recognizes books that have achieved 1 million sales while the Diamond Award recognizes the few that have surpassed the 10 million mark. Today we turn our attention to a bestseller that was a latecomer to the heaven tourism genre, but which surpassed them all.
Heaven Is For Real by Todd Burpo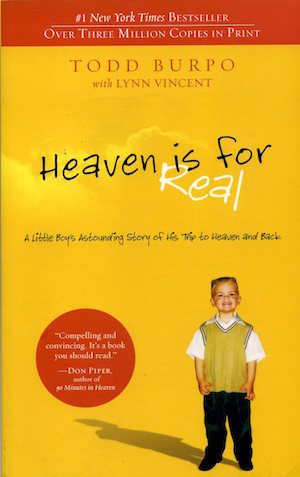 In March 2003, young Colton Burpo was in serious distress. Doctors did not yet know it, but his appendix had burst and his life was in grave danger. When doctors at one hospital were unable to diagnose him, his parents raced him to a new hospital where he was rushed into surgery, the doctor warning ominously that their son was in grave danger.
Colton survived his surgery and emerged from it telling a strange story: While his body lay on the operating table, he had been to heaven and met Jesus who, in the words of one reviewer, "assigned him homework; he also encountered angels, a rainbow-hued horse, John the Baptist, God the father, the Holy Spirit, a sister his mother miscarried (unknown to Colton) before he was born and his great-grandfather, Pop, as a young man. Everyone in heaven had wings; Colton's were smaller than most. He learned that the righteous, including his father, would fight in a coming last battle." All of these details and many more came to light in the months following his surgery. Several years later his father enlisted the help of author Lynn Vincent and together they compiled them as the basis of the book Heaven Is For Real. He wrote the book as a means of helping people gain confidence that God is real and that heaven is real.
The book released in late 2010 and by then heaven tourism was an established genre. This book followed a predictable pattern and told Colton's story in a consistent format: Colton would reveal a detail of his time in heaven, his father would recoil with the shock and significance of what Colton told him, and the information would help his father form a clearer picture of heaven. "Colton said he met his miscarried sister, whom no one had told him about, and his great grandfather who died 30 years before Colton was born, then shared impossible-to-know details about each. He describes the horse that only Jesus could ride, about how 'reaaally big' God and his chair are, and how the Holy Spirit 'shoots down power' from heaven to help us. Told by the father, but often in Colton's own words, the disarmingly simple message is heaven is a real place, Jesus really loves children, and be ready, there is a coming last battle."
Sales & Lasting Impact
Heaven Is For Real was an immediate sales phenomenon. By 2011, less than a year after its release, it had already crossed the 1 million sales threshold and was awarded the Platinum Sales Award. In 2014 it sold its 10 millionth copy and received the Diamond Sales Award, becoming one of only 6 books to achieve that feat.
Not surprisingly, the book generated no small amount of controversy, though the majority of the critiques were leveled at the entire heaven tourism genre. In a critique David Platt made during a session of "Secret Church," he said, "Make no mistake, there is money to be made peddling fiction about the afterlife as non-fiction in the evangelical world today." Pointing out that the majority of those who bought and devoured this book were self-described evangelicals, he expressed his concern for a lack of spiritual discernment in the church today.
John MacArthur created a second edition of his book The Glory of Heaven specifically to address the wave of heaven tourism books. He included an extended description and critique of Heaven Is For Real saying, "His stories of heaven are full of fanciful features and peculiar details that bear all the earmarks of a child's vivid imagination. There's nothing transcendent or even particularly enlightening about Colton's description of heaven. In fact, it is completely devoid of the breathtaking glory featured in every biblical description of the heavenly realm. That doesn't deter Todd Burpo from singling out selective phrases and proof texts from Scripture, citing them as if they authenticated his son's account." MacArthur, too, lamented the lack of discernment of those who read and believe such tales.
John Piper addressed the books in an episode of Ask Pastor John, warning that "if books go beyond Scripture, I doubt what they say about heaven. … And since doubted claims are of little use for living our lives, I don't bother to read these books since I have my Bible which already tells me what I can know for sure about heaven." Writing for The Gospel Coalition, Nancy Guthrie said "[W]e do not need the testimony of an impressionable 4-year-old boy, a neurosurgeon, spine surgeon, sports writer, or even a pastor to know that heaven is real. We have everything we need in the Bible. Its testimony is enough to generate genuine faith in Christ, as well as a greater longing for unending life in his presence."
The genre in general, and Heaven Is For Real in particular, were also mocked and parodied. For example, Bob and David mocked Corey the Wonder Kid and The Onion wrote a story titled "Child's Description Of Heaven During Near-Death Experience Specifically Mentions Book Deal."
The critiques piled up. However, they did not accumulate nearly as fast as the sales and the positive reviews. Today the book averages 4.5 stars at Amazon on the basis of more than 14,000 reviews.
Since the Award
Todd and Colton followed Heaven Is For Real with Heaven Is For Real For Kids (which was awarded the Gold Sales Award for surpassing 500,000 copies sold) and Heaven Changes Everything. Of greater note was the Heaven Is For Real movie which was released to theaters Easter weekend in 2014. It earned more than $100 million at the box office on a budget of just $12 million. Today the Colton family travels widely and hosts "Heaven Is For Real Live" events which include speaking and worship.
The heaven tourism genre seems to have faded recently, perhaps in large part because of the revelations of Alex Malarkey. Malarkey was the subject of another bestseller—The Boy Who Came Back From Heaven—but later revealed that he had fabricated the story. "I did not die. I did not go to Heaven. I said I went to Heaven because I thought it would get me attention." Today a visitor to the Heaven Is For Real site is greeted with this message: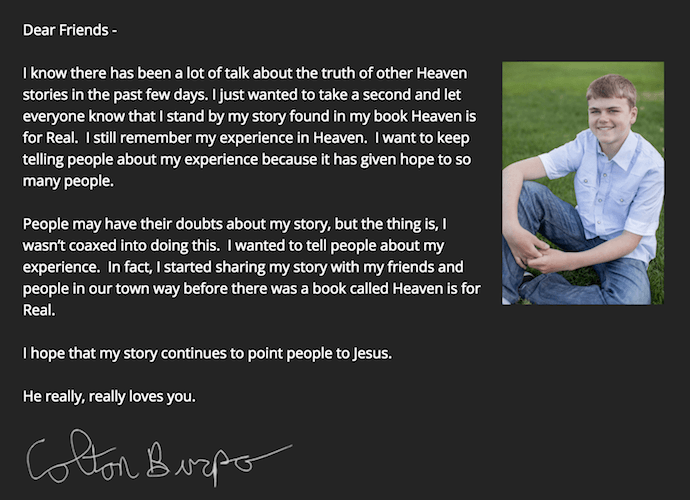 A Personal Perspective
I cannot deny that I have grown weary of talking and writing about the heaven tourism books. At one point I had decided to skip this entry in "The Bestsellers" series but later thought better of it. I am glad to see that the genre has faded. It seems exceedingly unlikely that it will make a comeback anytime soon. I will leave you with this infographic I created last year which charts its rise and fall.
More in

The Bestsellers:
View Entire Series