This week's Free Stuff Friday is sponsored by first-time sponsor Hendrickson Publishers. Hendrickson focuses on publishing Bibles and academic materials and they've got just the thing to interest you: The ESV Looseleaf Bible. They are offering five of them which means there will be five winners today.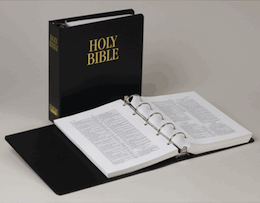 The English Standard Version's rigorous fidelity to the original languages of the Scriptures has quickly made it a widely used translation—now it's available from Hendrickson in a loose-leaf edition that will be a tremendous tool for serious students. There's plenty of room to take sermon or study notes on the text pages, which fit both three-and five-ring binders.

8.5 x 11 inch, 5-hole punched pages, including blank pages
Sturdy, 11 x 11.5 x 2.75 inch, five-ring binder (pages also fit a standard three-ring binder )
Concordance and center column references
The looseleaf format is very helpful for studying the Bible (though it's a safe bet that you won't be taking this to Bible study with you every week).
There are five of these to win!
Giveaway Rules: You may only enter the draw once. Simply fill out your name and email address to enter the draw. As soon as the winners have been chosen, all names and addresses will be immediately and permanently erased. Winners will be notified by email. The giveaway closes Saturday at noon.
Note: If you are reading via RSS, you may need to visit my blog to see the form.