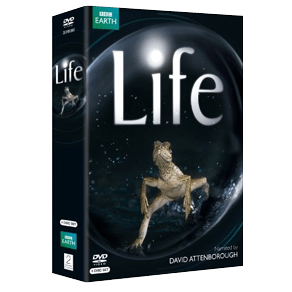 I've got a bit of a thing for nature documentaries and maybe it's because I'm not exactly the traveling type. I don't ever anticipate being able to visit South America or Africa, to walk through the jungles and savannahs and to see so many of the wonders of God's creation (at least on this side of eternity). Nature films, though, provide a glimpse of some of those things I guess I won't ever see except through the lens of a camera.
You are familiar, I'm sure, with Planet Earth, the 2007 BBC documentary that was and perhaps still is the greatest nature series ever filmed. That same team is responsible for Planet Earth's successor, titled simply Life. The series, filmed over four years, looks at "the lengths living beings go to to stay alive." This makes the series less epic in scope than its predecessor, but no less ambitious and certainly no less enthralling.
Life does a great job of mixing well-known animals with those that are more obscure. In one show you'll watch cheetahs and elephants and in another you'll encounter a bizarre pebble toad that lives in just one small corner of the earth. You'll come almost literally face-to-face with these creatures and so many others. The producers were able to capture shots that are as close-up, as intimate as any you've seen. Like Planet Earth before it, the camera work is absolutely stunning. In short "making-of" featurettes after each of the episodes you'll see the lengths they went to in order to capture these shots, sometimes working for days to film just a few seconds of footage. The series also features a musical score that takes itself lightly enough that it can add an element of fun or drama where appropriate.
We watched most of this series as a family and enjoyed doing so. Now, depending on how much you've talked to your children about life and depending on whether or not you live on or near a farm, you may find yourself having to answer a few questions (like "Daddy, what does fertilize mean?") since the animals are often filmed in the very throes of passion. And when the animals are not creating life, they are often destroying it, meaning that you will see a few gruesome deaths along the way. However, such is life (and, therefore, such is Life).
Watching the series as a family also gave us opportunities to discuss the inevitable references to evolution. Narrator David Attenborough throws around millions of years like a millionaire throws around nickels. In one particularly comical moment we see flamingos on the screen while Attenborough describes the birds' reptilian ancestors. Even a child can look at a newt and then look at a flamingo and do the math. The series is not constant in references to evolution but you will encounter it several times along the way.
Overall, Life is yet another fantastic series and one that will take you face-to-face with some of God's most remarkable creatures. The Bible tells us that it is the fool who says in his heart that there is no God. And this means that it is only the fool who could watch Life and not catch glimpses of the Creator. Watch it and praise God for his artistry.
Do note that there are two versions of the series available to you–the original by the BBC and the Discovery Channel adaptation. Be sure you find the original since David Attenborough is in every respect a superior narrator to Oprah Winfrey. Attenborough's eccentric inflections are part of the fun. Also, if you have access to the appropriate hardware, it's worth upgrading to the Blu Ray version so you can watch it all in high definition.
Here, in case you're not yet convinced, is the trailer: