Series Introduction: I live in a small house. I work in a small office in a small church. For those reasons and others I will never have a huge library. When I add a book I almost always remove a book, a practice that allows me to focus on quality over quantity. Over the past couple of years I have focused on building a collection of commentaries that will include only the best volumes on each book of the Bible. I know when I'm in way over my head, so before I began I collected every good resource I could find that rated and reviewed commentaries. I studied them and then began my collection on the basis of what the experts told me. Since I did all of that work, and since I continue to keep up with the project, I thought it might be helpful to share the recommendations.
My focus is on newer commentaries (at least in part because most of the classics are now freely or cheaply available) and I am offering approximately 5 recommendations for each book of the Bible, alternating between the Old Testament and the New. Today I have turned to the experts to find what they say about 1 Peter.
1 Peter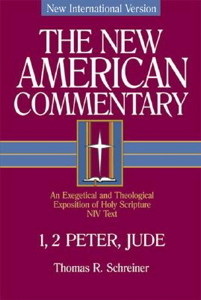 Thomas Schreiner – 1, 2 Peter, Jude (New American Commentary). There appears to be a strong selection of excellent commentaries on 1 Peter and most of the experts rate Schreiner's at or very near the top. This is hardly a surprise since many of his commentaries are considered excellent. Carson commends it as "one of the most impressive volumes in the [NAC] series, nicely displaying Schreiner's combination of exegesis and theological reflection couched in admirable clarity." (Amazon, Westminster Books)
Karen Jobes – 1 Peter (Baker Exegetical Commentary on the New Testament). On par with Schreiner's volume is Karen Jobes' contribution to the Baker Exegetical Commentary series. It provides a good level of in-depth exegetical analysis but remains accessible to a general audience. It will prove a helpful resource to preachers, scholars and laypersons alike. (Amazon, Westminster Books)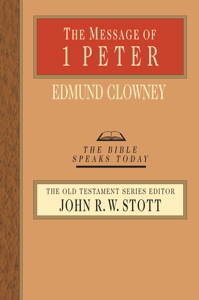 Edmund Clowney – The Message of 1 Peter (The Bible Speaks Today). The Bible Speaks Today is an ideal series for the general reader, though it is also very helpful in sermon preparation. Edmund Clowney's volume in 1 Peter is one of the best in the series. Keith Mathison commends it with these words: "Clowney's commentary is not the most technical, nor the most exhaustive work on 1 Peter by any stretch. In fact, it is an introductory level work, accessible to any reader, but page for page, it is by far, the most helpful commentary on 1 Peter. Clowney packs more insight into one page than many commentaries pack into an entire chapter. This one is a must-have." (Amazon, Westminster Books)
Paul J. Achtemeier – 1 Peter (Hermeneia: A Critical & Historical Commentary on the Bible). D.A. Carson insists this is the fullest commentary at the exegetical level and a masterpiece of careful scholarship. "Achtemeier has a knack for getting to the heart of an issue quickly, while the footnotes allow more advanced readers to pursue fine points. The writing is clear, and much of the exegesis is admirable." Having said all that, he can recommend it only with some caveats because Achtemeier holds that the epistle is pseudonymous and written in the 80s or 90s. Obviously some care and discernment will be in order. (Amazon, Westminster Books)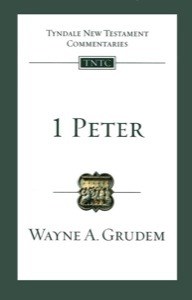 Wayne Grudem – 1 Peter (Tyndale New Testament Commentaries). Grudem's commentary is necessarily short because of the limitations of the TNTC series. While it does not engage with a lot of secondary literature, it does provide sound, introductory-level explanation and application. Carson points out that the appendix on the "spirits in prison" passage warrants the price of the volume, regardless of whether or not you find that you agree with him. (Amazon, Westminster Books)
Let me close with a couple of questions: Have you ever preached through 1 Peter? What are your preferred commentaries? Are there some you've found particularly helpful for preaching or devotional purposes?
More in

Best Commentaries:
View Entire Series