Series Introduction: I live in a small house. I work in a small office in a small church. For those reasons and others I will never have a huge library. When I add a book I almost always remove a book, a practice that allows me to focus on quality over quantity. Over the past couple of years I have focused on building a collection of commentaries that will include only the best volumes on each book of the Bible. I know when I'm in way over my head, so before I began I collected every good resource I could find that rated and reviewed commentaries. I studied them and then began my collection on the basis of what the experts told me. Since I did all of that work, and since I continue to keep up with the project, I thought it might be helpful to share the recommendations.
My focus is on newer commentaries (at least in part because most of the classics are now freely or cheaply available) and I am offering approximately 5 recommendations for each book of the Bible, alternating between the Old Testament and the New. Today I have turned to the experts to find what they say about 1 & 2 Samuel.
1 & 2 Samuel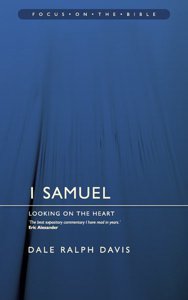 Dale Ralph Davis – 1 Samuel, 2 Samuel (Focus on the Bible). Dale Ralph Davis has written fantastic commentaries on many of the historical books of the Old Testament, 1 & 2 Samuel among them. (As an aside, I was excited to see in a recent catalog that he'll also be providing Daniel for the BST series.) While they are written at such a level that they are accessible for the general reader, they are very helpful for pastors as well. Truly, if you are going to preach Samuel, you will definitely want to have access to them. (Amazon: 1 Samuel, 2 Samuel; Westminster Books: 1 Samuel, 2 Samuel).
David T. Tsumura – The First Book of Samuel (New International Commentary on the Old Testament). Tsumura's commentary on 1 Samuel was published in 2007; the NICOT still does not have a volume on 2 Samuel, though apparently Tsumura continues to work on it. Keith Mathison recommends this commentary and says, "It is very well written and very thorough. Tsumura's expertise in the languages of the ancient Near East is evident throughout." He suggests as well that when the second volume is complete the set "will likely be the standard scholarly commentary on these books for many years." (Amazon, Westminster Books)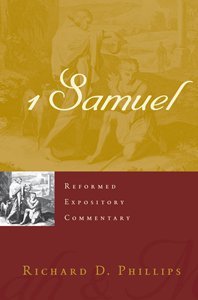 Richard Phillips – 1 Samuel (Reformed Expository Commentaries). To this point Phillips has covered only 1 Samuel, but it is an excellent volume and I trust (and hope!) he will be providing the commentary for 2 Samuel as well. As with all of the volumes in the Reformed Expository series, it is based on sermons and approaches the text section-by-section rather than verse-by-verse. Phillips is especially helpful when it comes to contemporary application. (Amazon, Westminster Books)
Ronald F. Youngblood. – 1 & 2 Samuel (Expositor's Bible Commentary). Youngblood's commentary on Samuel forms only part of this, volume three in the EBC. Longman gives it 4 stars and says, "It takes up half the book and is clearly the most mature of the entries. The author gives a balanced assessment of both the book's content as well as the secondary literature, with which he interacts with profit." It is suitable for all readers. (Amazon, Westminster Books)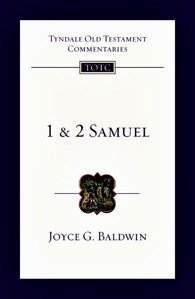 Joyce Baldwin – 1 & 2 Samuel (Tyndale Old Testament Commentaries). Because of the limitations of the TOTC series, Baldwin's commentary is quite brief, but still very helpful within that limitation. Keith Mathison says, "The commentary on the books of Samuel is a great example of Baldwin's high quality work. A very good introductory-intermediate level commentary." (Amazon, Westminster Books)
Let me close with a couple of questions: What are your preferred commentaries on 1 & 2 Samuel? Are there some you've found particularly helpful for preaching or for devotional purposes?
More in

Best Commentaries:
View Entire Series