Series Introduction: I live in a small house. I work in a small office in a small church. For those reasons and others I will never have a huge library. When I add a book I almost always remove a book, a practice that allows me to focus on quality over quantity. Over the past couple of years I have focused on building a collection of commentaries that will include only the best volumes on each book of the Bible. I know when I'm in way over my head, so before I began I collected every good resource I could find that rated and reviewed commentaries. I studied them and then began my collection on the basis of what the experts told me. Since I did all of that work, and since I continue to keep up with the project, I thought it might be helpful to share the recommendations.
My focus is on newer commentaries (at least in part because most of the classics are now freely or cheaply available) and I am offering approximately 5 recommendations for each book of the Bible, alternating between the Old Testament and the New. Today I have turned to the experts to find what they say about Acts, one of my favorite books of the Bible.
Acts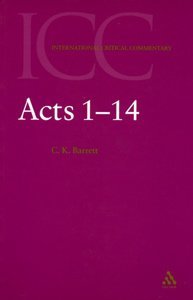 C.K. Barrett – Acts 1-14, Acts 15-28 (International Critical Commentary). D.A. Carson points out that until a few years ago we were underserved by commentaries on Acts, but that this has been remedied in recent years. He adds, "Pride of place should certainly go to C.K. Barrett" and his two-volume set. "The fruit of two decades of study, these two volumes offer acute and thought-provoking comments, many of them theological, on almost every page." Unfortunately the volumes may be difficult to track down. (Amazon: Volume 1, Volume 2; Westminster Books: Volume 1) You may have better success with the one-volume abridgement. (Amazon)
Darrell Bock – Acts (Baker Exegetical Commentary on the New Testament). Keith Mathison gives this one his highest recommendation saying, "Darrell Bock's massive and outstanding two-volume commentary on the Gospel of Luke raised my expectations for his commentary on Acts in the same series. I was not disappointed. This work is equally outstanding." He points out, though, that the reader may become confused if he does not have at least some basic knowledge of Greek. If you cannot find Barrett, Bock appears to be the place to begin. (Amazon, Westminster Books)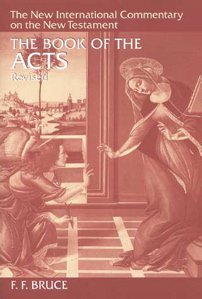 F.F. Bruce – The Book of the Acts (New International Commentary on the New Testament). F.F. Bruce has two commentaries on Acts and the contribution to the NICNT series is regarded as the stronger of the two. Not only that, but it is regarded as one of the very best works on the book. A couple of commentators on the commentaries point out that Bruce is especially strong on the historical aspect of Acts. (Amazon, Westminster Books)
Ben Witherington III – The Acts of the Apostles. There is near-unanimous praise for Ben Witherington's socio-rhetorical approach and its suitability to the book of Acts. Carson explains the phrase, saying that it "tends to mean no more than that the author is sensitive both to the world of the first century and to the structure of the text." (Amazon, Westminster Books)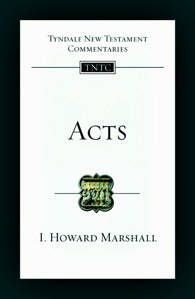 I. Howard Marshall – Acts (Tyndale New Testament Commentaries). I. Howard Marshall has written many commentaries; his work on Acts is regarded as one of his finest. Because this is a volume in the reader-friendly TNTC series, it will make an excellent choice for the casual reader. However, it is apparently also an invaluable resource for the preacher. (Amazon, Westminster Books)
I expected to add David Peterson's contribution to the Pillar New Testament Commentary to this list, but reviews were sparse (Amazon, Westminster Books). When it comes to sermon-based commentaries, you probably won't do better than Derek Thomas' volume in the Reformed Expository Commentary series (Amazon, Westminster Books). Kent Hughes' volume in the Preaching the Word series would also be a good choice (Amazon, Westminster Books).
Let me close with a couple of questions: What are your preferred commentaries on Acts? Are there some you've found particularly helpful for preaching or for devotional purposes?
More in

Best Commentaries:
View Entire Series