Series Introduction: I live in a small house. I work in a small office in a small church. For those reasons and others I will never have a huge library. When I add a book I almost always remove a book, a practice that allows me to focus on quality over quantity. Over the past couple of years I have focused on building a collection of commentaries that will include only the best volumes on each book of the Bible. I know when I'm in way over my head, so before I began I collected every good resource I could find that rated and reviewed commentaries. I studied them and then began my collection on the basis of what the experts told me. Since I did all of that work, and since I continue to keep up with the project, I thought it might be helpful to share the recommendations.
My focus is on newer commentaries (at least in part because most of the classics are now freely or cheaply available) and I am offering approximately 5 recommendations for each book of the Bible, alternating between the Old Testament and the New. Today I will finish up the Pentateuch by sharing what I learned about Deuteronomy.
Deuteronomy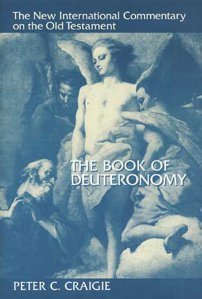 Peter C. Craigie – The Book of Deuteronomy (The New International Commentary on the Old Testament). As is usually the case, there is one commentary that most experts agree to be at the top of the class. For Deuteronomy pride of place belongs to Peter Craigie whom Tremper Longman describes as being "among the best of recent evangelical interpreters" and "an astute theologian and philologist." Several commentators affirm that he is firmly evangelical in his perspective. (Amazon, Westminster Books)
J.G. McConville – Deuteronomy (Apollos Old Testament Commentary). McConville's work also receives many accolades. Derek Thomas notes that McConville waffles a little bit on the book's dating and authorship but "rightly sees the notion of covenant as the regulating principle of Deuteronomy and astutely shows the importance of Deuteronomy for our understanding of the prophetic books." (Amazon, Westminster Books)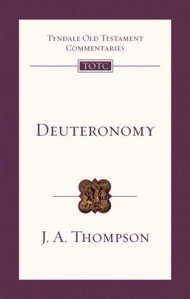 J.A. Thompson – Deuteronomy (Tyndale Old Testament Commentaries). J.A. Thompson's contribution to the TOTC series is shorter and more suited to a general audience than the previous two volumes. Keith Mathison offers this short review: "For those seeking a good introductory level commentary on the book of Deuteronomy, the commentary by Thompson in the Tyndale series is the best place to begin. For an introductory level commentary, it is surprisingly insightful." The TOTC is quite consistent in providing high-quality entry-level commentaries. (Amazon, Westminster Books)
Christopher Wright – Deuteronomy (New International Biblical Commentary). After the first three volumes it becomes far more difficult to find consensus among the experts. While some consider Wright's commentary troubling in a few respects, most do acknowledge that it has several unique strengths, particularly related to the field of ethics. For that reason I have added it to the #4 spot. (Amazon)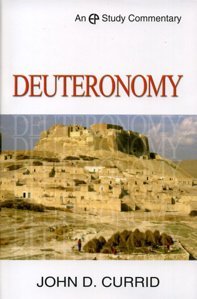 John D. Currid – Deuteronomy (EP Study Commentary). Where consensus for the fourth spot was difficult, it was impossible for this fifth and final one. However, based on what I have learned of John Currid and his commentaries, I know that at the very least this one will be orthodox and helpful. Keith Mathison was the only expert I found who has reviewed it. He says, "Combining exegesis and application, Currid's commentaries on the books of the Pentateuch have so far been very helpful. His commentary on Deuteronomy continues the standard of excellence." (Amazon, Westminster Books)
Let me close with a couple of questions: What are your preferred commentaries on Deuteronomy? Are there some you've found particularly helpful for preaching or for devotional purposes?
More in

Best Commentaries:
View Entire Series