Series Introduction: I live in a small house. I work in a small office in a small church. For those reasons and others I will never have a huge library. When I add a book I almost always remove a book, a practice that allows me to focus on quality over quantity. Over the past couple of years I have focused on building a collection of commentaries that will include only the best volumes on each book of the Bible. I know when I'm in way over my head, so before I began I collected every good resource I could find that rated and reviewed commentaries. I studied them and then began my collection on the basis of what the experts told me. Since I did all of that work, and since I continue to keep up with the project, I thought it might be helpful to share the recommendations.
My focus is on newer commentaries (at least in part because most of the classics are now freely or cheaply available) and I am offering approximately 5 recommendations for each book of the Bible, alternating between the Old Testament and the New. Today I have turned to the experts to find what they say about Job.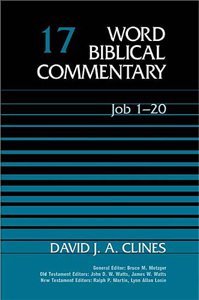 David J.A. Clines – Job 1-20; Job 21-37; Job 38-42 (Word Biblical Commentary). The experts all agree that Cline's contributions to the WBC is the best available on Job. It spans three large volumes, so is not for the faint-of-heart. Derek Thomas says, "This is the most comprehensive commentary available. … Cline deserves to be read thoroughly, though there are times when he is irritatingly defensive on Christological implications in the 'big texts' in Job." (Amazon: Volume 1, Volume 3; Westminster Books: Volume 1, Volume 2, Volume 3).
John Hartley – The Book of Job (New International Commentary on the Old Testament). Hartley's commentary is quite recent (1990) and is considered a good complement to Clines'. Tremper Longman calls it "a major contribution to the study of the book" and explains "this is because it examines all the facets of the book, not necessarily because it is terribly original. It is solidly evangelical in its approach and very well researched." (Amazon, Westminster Books)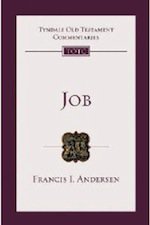 Francis I. Andersen – Job (Tyndale Old Testament Commentaries). Anderson's volume is part of the TOTC and is necessarily limited by the series. As Keith Mathison says, "For those seeking a more introductory level commentary on the book of Job, Francis Anderson's commentary is the best place to start. Anderson is a renowned scholar, and the commentary reflects his learning without becoming overly technical. Virtually any reader should be able to pick up this volume and work their way through it with little difficulty. A very helpful introductory commentary." (Amazon)
Elmer Smick – Job in The Expositor's Bible Commentary. As is so often the case, there appears to be a dramatic drop-off in quality after the first three recommendations. At this point there is far less consensus among the commentators on the commentaries. Also, most people will find three commentaries sufficient. For those interested, Smick's commentary appears good and Keith Mathison even gives it his person recommendation as a former student of Smick's. (Amazon, Westminster Books)
I typically offer 5 recommendations, but in this case will pause at 4 simply because of the lack of consensus.
Let me close with a couple of questions: Have you ever preached through Job? What are your preferred commentaries? Are there some you've found particularly helpful for preaching or for devotional purposes?
More in

Best Commentaries:
View Entire Series