Series Introduction: I live in a small house. I work in a small office in a small church. For those reasons and others I will never have a huge library. When I add a book I almost always remove a book, a practice that allows me to focus on quality over quantity. Over the past couple of years I have focused on building a collection of commentaries that will include only the best volumes on each book of the Bible. I know when I'm in way over my head, so before I began I collected every good resource I could find that rated and reviewed commentaries. I studied them and then began my collection on the basis of what the experts told me. Since I did all of that work, and since I continue to keep up with the project, I thought it might be helpful to share the recommendations.
My focus is on newer commentaries (at least in part because most of the classics are now freely or cheaply available) and I am offering approximately 5 recommendations for each book of the Bible, alternating between the Old Testament and the New. Today I have turned to the experts to find what they say about Hebrews.
Hebrews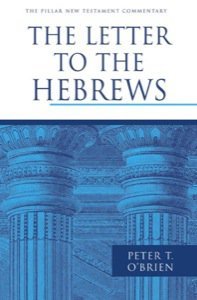 Peter T. O'Brien – The Letter to the Hebrews (Pillar New Testament Commentary). Hebrews is well served with excellent commentaries ranging from the popular-level to the very technical. Published just three years ago, O'Brien's commentary is regarded as about the best of the bunch. (You may remember that O'Brien has also written excellent commentaries on Paul's prison epistles.) This volume is appropriate for nearly any reader and will reward with rich commentary and insightful application. D.A. Carson says, "It would be difficult to find a more helpful guide than Dr. O'Brien, or a guide better endowed with his combination of competence and genial wisdom." (Amazon, Westminster Books)
Paul Ellingworth – The Epistle to the Hebrews (New International Greek Testament Commentary). Ellingworth's commentary is widely considered among the strongest commentaries on Hebrews—perhaps even the strongest for scholars and well-trained pastors. Because it is a volume in the NIGTC, you will need some knowledge of Greek to enjoy it to the full. Those who studied the language and who are interested in a very technical commentary will find that this one deals very well with the Greek text and that it provides insightful commentary. Everyone warns, though, that it is not for the feint-of-heart. (Amazon, Westminster Books)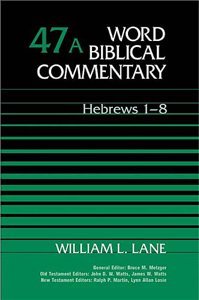 William L. Lane – Hebrews 1-8; Hebrews 9-13 (Word Biblical Commentary). Until quite recently, Lane's commentary was considered the best of the commentaries written to be accessible to those with little knowledge of Greek. Carson compares these volumes with Lane's and says, "Lane often provides a better mix of tehcnical comment and thoughtful theology." It always bears mention that the Word Biblical Commentary has an awkward and unhelpful format, so it takes just a little bit more work to read than most. (Volume 1: Amazon, Westminster Books; Volume 2: Amazon, Westminster Books)
F. F. Bruce – The Epistle to the Hebrews, Revised Edition (New International Commentary on the New Testament). Keith Mathison says that this is one of the best of the many commentaries Bruce wrote over the course of his lifetime. He concludes "The commentary is thorough yet accessible and should be consulted by all students of this book of Scripture." Note that this commentary was originally published in the 60's but revised and republished in 1990; if you have the older volume, or can buy it used, there may be little use in purchasing the update. (Amazon)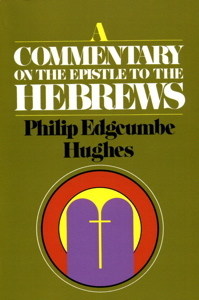 Philip E. Hughes – A Commentary on the Epistle to the Hebrews. This commentary which is not part of a set, has long been considered one of the best available. The commentators on the commentaries commend it for its wide historical sweep and for the way Hughes wrestles with the difficult theological questions. Derek Thomas gives it a one-word review: "Outstanding!" while Jim Rosscup says "The commentary is quite full and able to discuss ramifications where many even of the good commentaries are too general for some eager readers." (Amazon, Westminster Books)
One commentary I would like to see reviewed is Richard Phillip's contribution to the Reformed Expositional Commentary. I have read it and enjoyed it and know others who relied on it while preaching through Hebrews. (Amazon, Westminster Books)
Let me close with a couple of questions: Have you ever preached through Hebrews? What are your preferred commentaries? Are there some you've found particularly helpful for preaching or for devotional purposes?
More in

Best Commentaries:
View Entire Series