We are just two weeks away from the release date for my new book A Visual Theology Guide to the Bible (which I co-authored with Josh Byers). In it we have attempted to make the deepest truths of the Bible accessible in a way that can be seen, understood, and experienced like never before. To do this, we've combined graphics and text to teach the nature and contents of the Bible in a fresh and illuminating way.
Today I'd like to show you a sampler from the book, and tell you about some of the pre-order bonuses we are offering with it. First up, here's a sampler:

Buy it at Amazon or CBD or Barnes & Noble
Pre-Order now and Get Free Bonus Material!
This time around with A Visual Theology Guide to the Bible we've created a number of free resources for anyone that pre-orders the book. Not only will you get some powerful graphics that display great truths, but we are giving away some helpful resources to use with the book in your teaching and personal reading. In particular, I want to commend these resources to you for working with young adults and new Christians in your churches.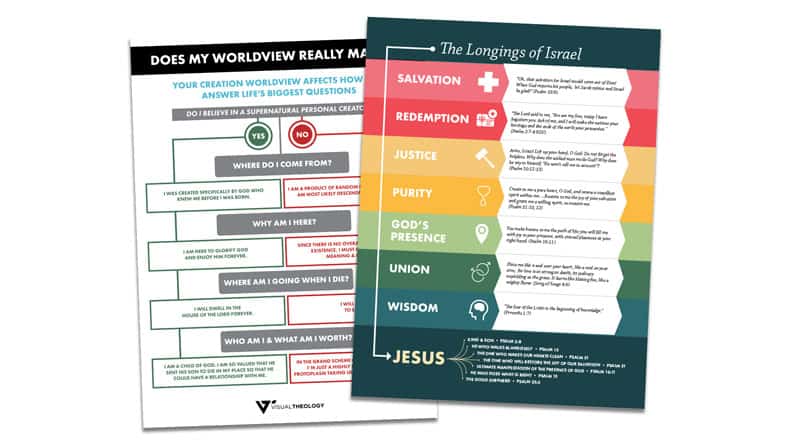 Let  us know that you pre-ordered it, and we'll send you some free bonus material right away. You'll get:
Free classroom handouts. We have used this content to teach the Bible in churches and groups, and believe it will work well for you too. The downloads we've chosen are helpful in walking through your worldview and visualizing how the longings of Israel point to Jesus.
Free workbook. This will assist you when teaching the Bible to groups. It gives students an easy way to follow along and fill in notes in a classroom setting.
Free poster downloads. We're making available downloadable versions of some of our most popular Visual Theology posters: 100 References, Prophecies, & Fulfillments and The New Covenant in Jeremiah 31
. These are ideal for printing for your church, home, and/or office.
Free wallpaper. Cool graphics for your phone that teach the Bible.
20% off a poster or t-shirt in the store at VisualTheology.church.
Buy it at Amazon or CBD or Barnes & Noble
Pre-Order now and Get Free Bonus Material!