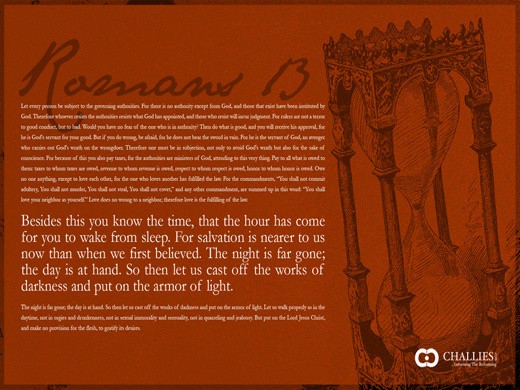 As you know, I've been enjoying memorizing passages of Scripture with readers of this site. To this point we have finished Psalm 8, Psalm 103 and Romans 12. We are hard at work on Romans 13. I thought it might be valuable to offer wallpapers for your desktop that tied in to the memorization program (though even if you are not participating you may enjoy them). I had a graphics designer come up with some designs and will link them each time we begin a new passage. Here, then, is a wallpaper you can download for Romans 13.
You can download it in four sizes:
1024 x 768, 1680 x 1050, 1600 x 1200, 1920 x 1200
Not sure how to change your wallpaper? Windows users click here, Mac users click here.
I hope you find them useful. In the coming weeks I'll post wallpapers for Psalm 8, Psalm 103 and Romans 12.