Last week I offered the first of a series of wallpapers to coincide with the Scripture Memorization effort some of us are enjoying. This week we are moving to a new passage of Scripture and hence I wanted to offer you a wallpaper to go along with it. Our new passage is going to be (to no one's great surprise) Romans 14 (and the first seven verses of Romans 15). This will be our last passage in Romans; it means we will have memorized chapters 12, 13, 14 and the first portion of 15. This includes, then, this entire "application" section of Paul's Epistle. It will be good to have it filed away so we can continue to meditate upon it, learn from it, and grow because of it.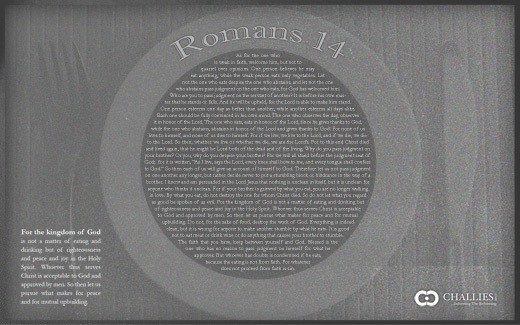 You can download it in three sizes:
1024 x 768, 1680 x 1050, 1920 x 1200
Not sure how to change your wallpaper? Windows users click here, Mac users click here.
I hope you find them useful. In the coming weeks I'll post "catch-up" wallpapers for Psalm 8, Psalm 103 and Romans 12.
Also, if you are into graphics design and would like to come up with some alternate designs for the Scripture memory wallpapers, please let me know. I'd love to be able to offer up a series of designs for each passage.
And finally, if you need this wallpaper in a size I haven't offered, leave a comment and I'll see what I can do. I'm not sure who uses what wallpaper sizes these days.
If you are interested in joining in with us as we memorize portions of God's Word, please add your name and email address below: