Series Introduction: I live in a small house. I work in a small office in a small church. For those reasons and others I will never have a huge library. When I add a book I almost always remove a book, a practice that allows me to focus on quality over quantity. Over the past couple of years I have focused on building a collection of commentaries that will include only the best volumes on each book of the Bible. I know when I'm in way over my head, so before I began I collected every good resource I could find that rated and reviewed commentaries. I studied them and then began my collection on the basis of what the experts told me. Since I did all of that work, and since I continue to keep up with the project, I thought it might be helpful to share the recommendations.
My focus is on newer commentaries (at least in part because most of the classics are now freely or cheaply available) and I am offering approximately 5 recommendations for each book of the Bible, alternating between the Old Testament and the New. Today I have turned to the experts to find what they say about 1 & 2 Chronicles.
1 & 2 Chronicles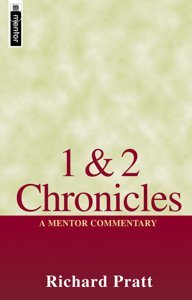 Richard L. Pratt – 1 & 2 Chronicles (Mentor Commentary, 1998). Tremper Longman writes Baker's Old Testament Commentary Survey, one of the primary references for commentaries. Strangely, he does not review any of the series by some smaller publishers like Christian Focus; this is a shame because they come highly recommended by many other experts. Several of those other experts commend Pratt's work and elevate it to the first position. Derek Thomas says tersely, "Excellent! Keeps the theology of the text central. Identifies 28 major biblical-theolgical motifs." (Amazon, Westminster Books)
Roddy L. Braun and Raymond B. Dillard – 1 Chronicles, 2 Chronicles (Word Biblical Commentary). WBC's volumes on 1 & 2 Chronciles are written by different authors which makes them a little bit uneven. Most agree that Dillard's is superior but that both are excellent resources. Longman praises Dillard's volume by saying, "This commentary makes 2 Chronicles come alive. It is superb in its analysis of the theological message, given 2 Chronicle's composition in the postexile period. It is one of the few Old Testament commentaries that explores connections with the New Testament." (Amazon: Volume 1, Volume 2; Westminster Books: Volume 1, Volume 2)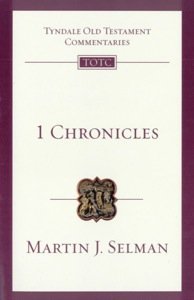 Martin Selman – 1 Chronicles, 2 Chronicles (Tyndale Old Testament Commentaries). I always try to include one commentary that is written specifically for the general reader and makes a good introductory commentary. Selman's contribution to the TOTC fits the bill. Keith Mathison says, "As with many other commentaries in the Tyndale series, Selman's work is clear and concise without being simplistic. This is a good place to begin for laymen who are looking for a basic introduction to the books." (Amazon: Volume 1, Volume 2; Westminster Books: Volume 1, Volume 2)
Sara Japhet – 1 & 2 Chronicles (Old Testament Library). Japhet's commentary is written from something of a critical perspective, so an extra measure of discernment will be necessary when consulting it. But most experts still recommend it because of its thoroughness in many areas. Longman says that its greatest weakness is in the area of theology, but still calls it a masterful work and points out that it "covers the bases on the book of Chronciles: philology, text, literary strategy, and history." He explains that despite Japhet's moderately critical perspective she still arrives at many sound, conservative conclusions. (Amazon)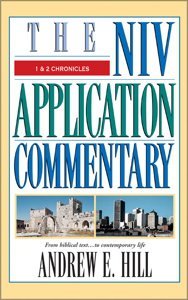 Andrew E. Hill – 1 & 2 Chronicles (NIV Application Commentary). I'm not sure how many commentaries on you would actually need in order to study, understand or preach Chronicles. However, if I were to target five, I would want to include Andrew Hill's volume from the NIV Application Commentary series and for exactly the reasons Keith Mathison gives: "It is one thing to understand what the original author of Chronicles was saying to post-exilic Israel, it is another to understand how the teaching of Chronicles applies to the 21st century church. The strength of the NIV Application series is in bridging the gap between the original audience and today's audience. Hill accomplishes this goal nicely, resulting in a work that will prove especially valuable for pastors and teachers." (Amazon, Westminster Books)
Let me close with a couple of questions: Has anyone ever preached through 1 & 2 Chronicles? What are your preferred commentaries? Are there some you've found particularly helpful for preaching or for devotional purposes?
More in

Best Commentaries:
View Entire Series