Series Introduction: I live in a small house. I work in a small office in a small church. For those reasons and others I will never have a huge library. When I add a book I almost always remove a book, a practice that allows me to focus on quality over quantity. Over the past couple of years I have focused on building a collection of commentaries that will include only the best volumes on each book of the Bible. I know when I'm in way over my head, so before I began I collected every good resource I could find that rated and reviewed commentaries. I studied them and then began my collection on the basis of what the experts told me. Since I did all of that work, and since I continue to keep up with the project, I thought it might be helpful to share the recommendations.
My focus is on newer commentaries (at least in part because most of the classics are now freely or cheaply available) and I am offering approximately 5 recommendations for each book of the Bible, alternating between the Old Testament and the New. Today I have turned to the experts to find what they say about Lamentations.
Lamentations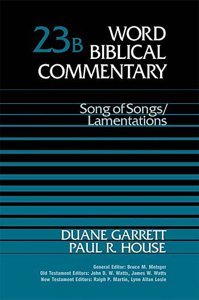 Duane Garrett and Paul House – Song of Songs / Lamentations (Word Biblical Commentary). The WBC always seems to come with a warning about its unfortunate and unhelpful format. Still, many of the volumes are excellent, and the volume on Lamentations is said to be one of them (Garrett prepared the commentary on Song of Songs and House prepared the commentary on Lamentations). Keith Mathison says, "He deals with every aspect of the text and digs into the theology of the book. Although somewhat technical, it is very useful." This sounds like as good a place to begin as any. (Amazon, Westminster Books)
J. Andrew Dearman – Jeremiah / Lamentations (NIV Application Commentary). While the NIVAC is an uneven series, the volume covering Jeremiah and Lamentations is regarded as a sound choice for any reader, but especially the more general reader. Tremper Longman says it reflects, "A very sensitive theological reading that also brings these two books into touch with the contemporary world. In keeping with the series, Dearman does not deal with technical issues." (Amazon, Westminster Books)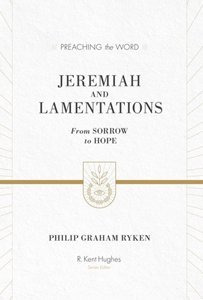 Philip Ryken – Jeremiah and Lamentations: From Sorrow to Hope (Preaching the Word). Ryken's commentary is based on a sermon series he preached through the two books of Jeremiah while senior pastor of Tenth Presbyterian Church in Philadelphia. His theological perspective is distinctly Evangelical and Reformed. Derek Thomas considers it "a superb expositional commentary" and points out that it includes a helpful index of sermon illustrations. Because it is based on sermons, it would make an ideal resource for someone interested in exploring the book devotionally. (Amazon, Westminster Books)
Tremper Longman – Jeremiah, Lamentations (New International Biblical Commentary). Tremper Longman is both a commentator and a commentator on the commentaries. His volume on Jeremiah and Lamentations is regarded as one of the best. Mathison says, "This recent commentary by a well-known evangelical author fills a gap by providing for a general audience the fruits of the most up-to-date scholarship on the book of Jeremiah [and Lamentations]. Although easily accessible, Longman provides numerous literary and theological insights into the book." (Amazon, Westminster Books)
I had a difficult time finding a consensus fifth pick for Lamentations. Having said that, I would probably gravitate toward one of the conservative and/or Reformed series like Mentor. I trust John Mackay's volume would be both accessible and firmly grounded in truth. (Amazon, Westminster Books)
Let me close with a couple of questions: Have you ever preached through Lamentations? What are your preferred commentaries? Are there some you've found particularly helpful for preaching or devotional purposes?
More in

Best Commentaries:
View Entire Series