Series Introduction: I live in a small house. I work in a small office in a small church. For those reasons and others I will never have a huge library. When I add a book I almost always remove a book, a practice that allows me to focus on quality over quantity. Over the past couple of years I have focused on building a collection of commentaries that will include only the best volumes on each book of the Bible. I know when I'm in way over my head, so before I began I collected every good resource I could find that rated and reviewed commentaries. I studied them and then began my collection on the basis of what the experts told me. Since I did all of that work, and since I continue to keep up with the project, I thought it might be helpful to share the recommendations.
My focus is on newer commentaries (at least in part because most of the classics are now freely or cheaply available) and I am offering approximately 5 recommendations for each book of the Bible, alternating between the Old Testament and the New. Today I'll share what I learned about Exodus.
Exodus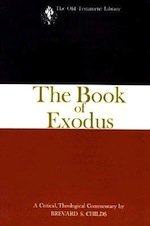 Brevard S. Childs – The Book of Exodus (The Old Testament Library). There is near-unanimous praise for this volume by Brevard Childs even though it comes from the critical stream. Jim Rosscup of The Master's Seminary recommends it with a caveat, saying it is "suitable for scholars or intense, advanced students who have discernment to weigh what is good and what is subjective theory pressed in." This seems like a must-have commentary for the preacher, but he will want to have others available besides. It is probably not as useful or appropriate for the casual reader. (Amazon)
Peter Enns – Exodus (New International Version Application Commentary). This volume also receives many accolades from a wide variety of experts. Tremper Longman calls this an "incredibly insightful theological study" of the book of Exodus and says, "This commentary is ideal for those preaching on Exodus, because he so thoughtfully explores the book's trajectory toward the New Testament gospel." (Amazon, Westminster Books)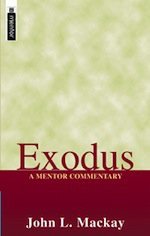 John L. Mackay – Exodus (A Mentor Commentary). The commentators on commentaries say that this volume is equally useful to both pastors and lay readers and that it is especially strong in the area of application. This praise is perhaps especially noteworthy when it comes to the Old Testament narratives since they do not always lend themselves to easy and natural application, at least compared to, say, the New Testament epistles. (Amazon, Westminster Books)
J. Alec Motyer – The Message of Exodus (The Bible Speaks Today). Though this commentary is quite short compared to many (a necessity due to the format of the BST series) it still receives many accolades. Keith Mathison says that "on almost every page, the reader finds helpful insights into the meaning of the second book of Moses" while Derek Thomas says (alliteratively) that it is superb, scholarly, simple, and sensible. (Amazon, Westminster Books)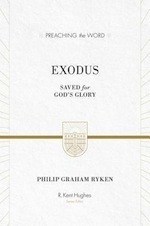 Philip Ryken – Exodus (Preaching the Word). I have read at least portions of several of Ryken's commentaries (Luke, 1 Kings, and Ecclesiastes all come to mind) and have always benefited from them. His volume on Exodus is massive and is drawn from his sermons on the book. This makes it particularly well-suited for laypersons who simply want to understand the text better, though it will also prove valuable to the preacher. (Amazon, Westminster Books)
Let me close with a question: What are your preferred commentaries on Exodus? Are there some you've found particularly helpful or are there some we would do well to avoid?
More in

Best Commentaries:
View Entire Series